Prestigious public service association names Widener Law nominee "Distinguished Bankruptcy Law Student"
3/25/2015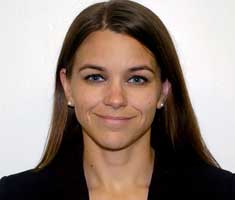 Widener Law congratulates Courtney Emerson on her selection as the 2015 Third Circuit Distinguished Bankruptcy Law Student by the American College of Bankruptcy.

The award is given to a student with outstanding academic credentials and an interest in bankruptcy law. Law professors, law deans and fellows of the American College of Bankruptcy within the circuit may make nominations. All nominated students are considered by the circuit's council, which makes the award selection. Each circuit may select only one student for the honor and may do so only every other year. The third circuit encompasses Delaware, New Jersey and Pennsylvania.

Emerson attended the American College of Bankruptcy's annual meeting and induction ceremony this month in Washington, D.C., where she had the opportunity to meet college leadership and fellows from around the country. She completed her law studies in December and will participate in the May 2015 Widener Law Delaware commencement.

Helen S. Balick Visiting Professor in Business Bankruptcy Law Bruce Grohsgal nominated Emerson for the honor.

"I thank the American College for recognizing Ms. Emerson with this award," Grohsgal said. "She has been an excellent, thoughtful and energetic student, whose contributions and accomplishments in law school make her deserving of it. It is gratifying to see this distinguished organization acknowledge what I see in Courtney: a young professional with tremendous potential to make valuable contributions to the legal community. I wish her well."

Emerson has attended law school while also working full time as a planner in the Delaware Emergency Management Agency. She took a three-month break from the position in the summer of 2014 to complete a summer associate position at Fox Rothschild LLP. She plans to begin full-time work with the law firm in September.

She also spent six years as a firefighter/emergency medical technician with the Christiana Volunteer Fire Co. and she worked six years as an educator for MBNA/Bank of America. She holds a bachelor's degree in political science from the University of Delaware.

The American College of Bankruptcy is an honorary professional and educational association of bankruptcy and insolvency professionals. It plays an important role in sustaining professional excellence and supports educational and pro bono efforts in local communities. College fellows include commercial and consumer bankruptcy attorneys, insolvency accountants, turnaround and workout specialists, law professors, judges, government officials and others involved in the bankruptcy and insolvency community.