Students assist expungement clinic
7/27/2016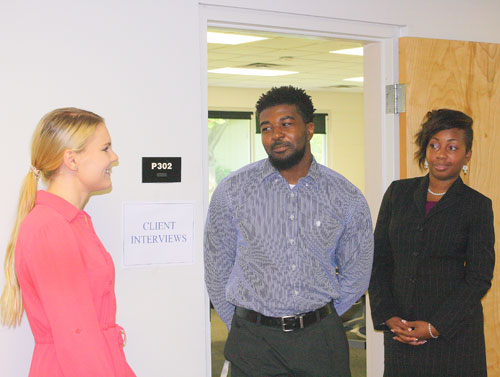 Delaware Law School students served on the front lines of an expungement clinic held this summer at the law school, which was designed to assist juveniles.
The law school partnered with the state Office of Defense Services, Delaware Center for Justice, and the APEX program to help youths expunge their criminal records and clear their paths to future education and employment. The clinic provided no-cost legal aid by lawyers from the state and private attorneys, with assistance from the law school.
Law students who volunteered at the event met with youths and their parents, and helped them start the paperwork process involved in expungement. They also interviewed the families from a prepared list of questions. "We filled out the paperwork as they answered us," rising 2L Darren Dioh said.
Dioh and fellow rising 2L Trisha Lantz helped staff the event with student Janell Foster. Dioh and Lantz are summer interns with the Veterans Law Clinic and learned of the opportunity through clinic Director Amber A. Baylor.
"I liked being able to see the process," said Lantz, who said many of the families came in hopes of clearing the way for college and job applications.
More than 30 people attended the clinic, held in Polishook Hall. Of those, 20 juveniles were determined to be eligible for mandatory expungement once officials receive their certified criminal histories from the Delaware State Bureau of Identification to attach to their petitions. Twelve more attendees may be eligible to petition for discretionary expungement in the future or may need to go through the adult pardon and expungement process.
Baylor, a visiting assistant professor, and Romie Griesmer, lecturer at law, coordinated the event for Delaware Law. Griesmer is supervising attorney for the school's Pennsylvania Criminal Defense Law Clinic.
"Our law students' participation in these kinds of events helps improve these children's chances for future success. The work on this initiative compliments our commitment to community service and service learning. We see this as the start of a long partnership," Griesmer said.