Delaware Law Partners with Brazilian University
11/13/2017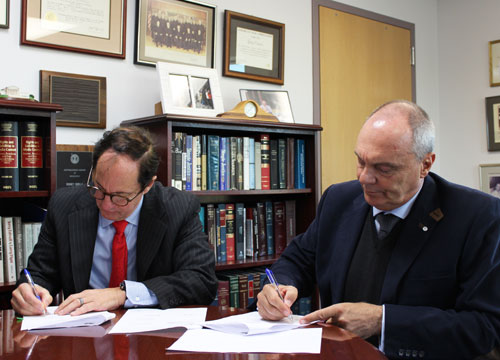 Delaware Law School recently signed an articulation agreement with the University of the Itajaí Valley or UNIVALI in Brazil. The agreement, signed recently by both Delaware Law Dean Rodney Smolla and Professor Dr. Paulo Márcio Cru – the Dean of the Post-Graduate Program in Juridical Science (LLM and SJD) at UNIVALI – will provide a variety of exchange opportunities between the two schools.
The agreement provides for collaboration involving students and professors for studies and research and avails both universities to opportunities for dual degree programs, particularly LLM and SJD programs. While UNIVALI has similar agreements with Perugia in Italy, Alicante in Spain, and Minho in Portugal, this represents the first such agreement with an American University.
In remarks at the signing, Cruz said, "We are aware of the level of the group of professors you have here, especially in Constitutional Law, Environmental Law, Human Rights, and Corporate Law . . ." specifically, he mentioned Professors Erin Daly and James May, who visited UNIVALI in May, and Assistant Dean Eileen Grena as instrumental in making the connection between the two schools.