Delaware Law Students win Best Brief at Moot Court Competition
12/4/2017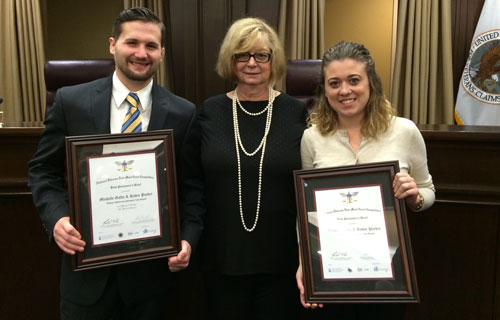 Two Delaware Law School students – Michelle Gallo and Kevin Packer – were awarded "Best Petitioner's Brief" at the National Veterans Law Moot Court Competition at George Washington University Law School over the weekend of November 4-5, 2017.
Nineteen teams from 16 law schools participated in this year's competition. The topic for this year's competition addressed the issue of whether the Department of Veterans Affairs is entitled to the presumption of regularity with respect to the process it uses to scan paper claims files to electronic claims files. In addition, when the Department of Veterans Affairs fails to properly scan a paper record and that paper record is no longer available, is a claimant entitled to an adverse inference as to the content of the record?
The semifinal and final rounds of the competition were held at the U.S. Court of Appeals for Veterans Claims, in Washington, DC. Earlier preliminary rounds were held at George Washington University Law School.
Ms. Gallo and Mr. Packer were coached by Associate Professor Leslie A. Johnson, a professor at Delaware Law School for 22 years and moot court coach for 20 years. Professor Johnson said that she "couldn't be more proud of her student competitors. In addition to the Best Brief Award, our students were ranked number one as they entered the Elite 8 Round of competition, having scored impressive wins in their first two preliminary rounds."
The National Veterans Law Moot Court Competition was first organized in 2009 and is the nation's premier moot court competition that focuses on veterans law. The competition brings together teams of students from around the country to argue cutting edge veterans law issues before panels of distinguished practitioners and judges.