Delaware Supreme Court Hears Oral Arguments at Delaware Law
3/2/2018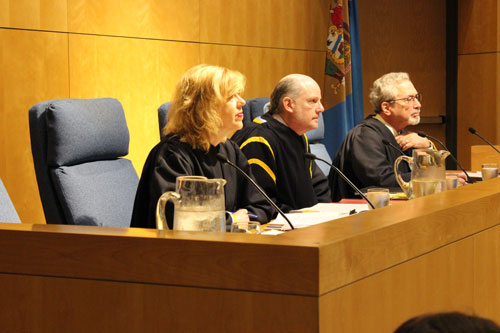 From left to right: Justice Karen L. Valihura, Chief Justice Leo E. Strine, and Justice Gary F. Traynor '82.
Delaware Law School's long-standing tradition of hosting the Delaware Supreme Court to hear oral arguments on campus is a point of pride for the school.
On Feb. 21, the Ruby R. Vale Moot Courtroom was filled to capacity with hundreds of law students and faculty members. The gallery included 30 accepted applicants who will begin their studies at the law school in August 2018, as well as a contingent of distinguished judges and lawyers from Brazil, who had been spending the week there as part of a new international partnership.
Delaware Law School's presence was also visible in the Josiah Oliver Wolcott Fellows, students in their final year of law school who serve as part-time clerks to the justices, and to other graduates of the law school who participated as advocates in the arguments or as law clerks to the justices.
Just before the proceedings began, Chief Justice Leo E. Strine, Jr. alluded to the song "Homeward Bound" by Paul Simon. The allusion was to the homecoming of Justice Gary F. Traynor, a 1982 graduate of the Delaware Law School and the newest member of the court.
Strine, Justice Karen L. Valihura and Traynor heard the first argument in Merlin Partners v. SWS Group, an appeal from a statutory appraisal.
The second argument in the case of Sherman v. Dept. of Public Safety was heard by the entire court: Strine, Valihura, Justice James T. Vaughn, Jr., Justice Collins J. Seitz, Jr., and Traynor. The second case was related to a plaintiff's estate's appeal from the Delaware Superior Court's denial of a motion to set aside the jury's verdict or for new trial.
"We were honored to host the oral arguments of the Delaware Supreme Court," said Delaware Law School Dean Rodney A. Smolla. "In substance and symbol, it was a terrific day for us. We are most thankful to the Supreme Court for this remarkable educational opportunity.