Symposium Examined 'All Matters FDA: Opioids, Whistleblower Actions, and More'
4/12/2018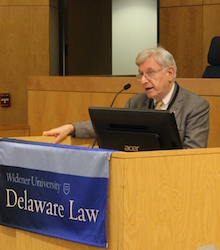 Dr. Stanley Milstein spoke at the Food and Drug Law program on April 4.
Delaware Law School's Food and Drug Law Association (FDLA), together with faculty advisor and U.S. Food and Drug Administration speaker Professor Roseann Termini, led a symposium titled "All Matters FDA."
The program, held on April 4 in the Ruby R. Vale Moot Courtroom, was attended by approximately 110 attorneys, regulators, enforcement officials, physicians, alumni, students, staff and members of the community.
Speakers included Robert J. Durkin, deputy director of the the Office of Dietary Supplement Programs at the FDA; Kevin M. Bosch, special agent at the Philadelphia Division of the FBI; Kevin Spradlin, intelligence analyst for the FBI in Washington, D.C.; Matthew R. Noonan, compliance officer for the Human and Animal Food Division of the FDA; Termini, food and drug law legal scholar and adjunct professor at Delaware Law School; Charlene Fullmer, deputy chief for affirmative litigation at the U.S. Attorney's Office for the Eastern District of Pennsylvania; Dr. Stanley Milstein, former acting deputy director (retired) FDA Office of Cosmetics and Color; and Hooman Noorchashm, cardiothoracic surgeon from Philadelphia.
The symposium covered topics such as regulation of dietary supplements, food safety, food and drug focused anti-terrorism initiatives, food, drug and cosmetic regulation and enforcement, current trends in FDA law, and medical device regulation, enforcement and reform.
Termini thanked the Delaware Law School administration for their support over the years in presenting the annual program.
Referring to the fact that the conference was very "timely," Termini said that "within the past 48 hours, there has been a huge recall of a product that is masquerading as a dietary supplement and we were able to cover that today."
Termini has been a member of the adjunct faculty at the law school since 1993, teaching food and drug law in both live and online formats. She is the author of Food and Drug Law (9th Edition) published by Forti Publications.
In conjunction with this symposium, FDLA held a fundraiser benefitting the Delaware Humane Association. Monetary donations can be made online.