Jurist Academy Exposes Undergraduates to Law School
8/8/2018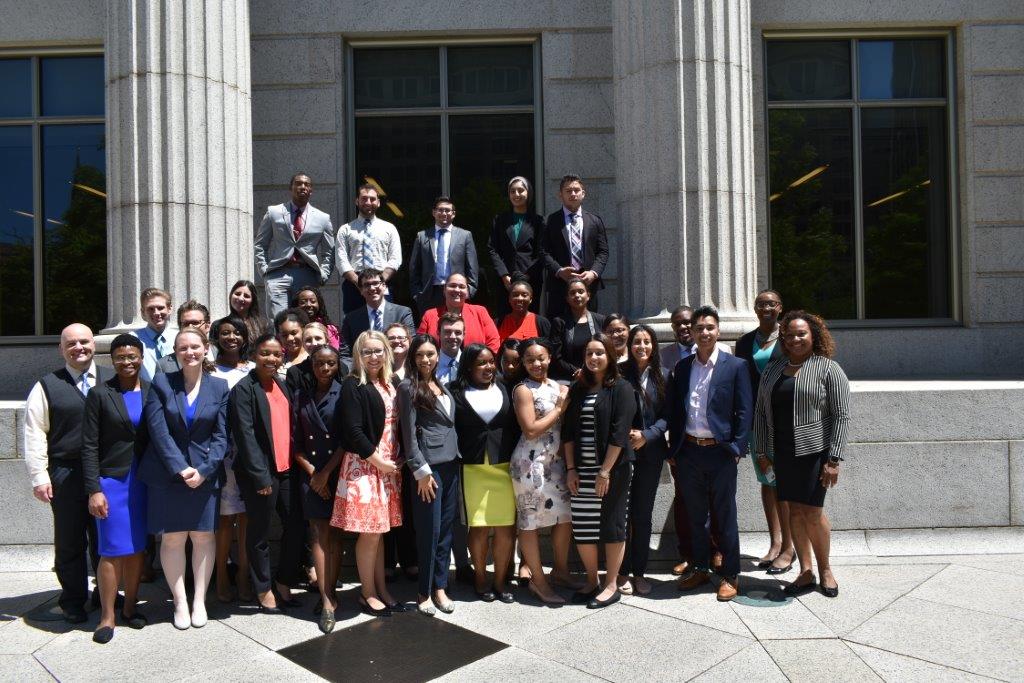 2018 Jurist Academy students visiting Young Conaway Stargatt & Taylor in Wilmington, DE. Students are shown with Young Conaway's summer associates.
Twenty-one college juniors and seniors spent two weeks at Delaware Law School in June as members of the 2018 Jurist Academy class. The students got a real sense of what law school is like and the opportunities that lie ahead if they pursue a legal career.
The Jurist Academy began in 2008 with the goal of providing students from traditionally underrepresented groups with a law school experience.
Undergraduate students accepted into the academy each year experience the dynamics of a law school classroom, meet lawyers and judges on field trips and on-campus events, practice oral arguments, and learn about the admissions process and life at law school.
Many students enter law school with myths and misunderstandings about how they will learn the law, putting them at a disadvantage as they struggle to manage the workload. The program exposes students to the rigors of studying the law early so they have an advantage if they continue on a legal educational path. The program also informs students of legal career options while building critical thinking and analytical skills necessary for success in law school and the legal profession.
This year's Jurist Academy students studied Property Law with Professor Leslie Johnson, Torts with Professor Alice Eakin, and Legal Writing and Oral Advocacy with Professor Iva Johnson Ferrell.
As they would in law school, students read and briefed assigned cases, discussed the case law in class, and then applied the law that they learned to hypothetical situations. The students also learned how to take law school exams by completing an essay question and multiple choice questions.
Over the two weeks, Jurist Academy participants received law school admission test (LSAT) training and review, classroom instruction in select law school courses, and academic success strategies. Field trips to Richards Layton & Finger and Young Conaway Stargatt & Taylor, both Wilmington, Delaware, law firms, were highlights of the program.
Since 2008, the Jurist Academy has hosted approximately 125 students representing numerous institutions of higher education. This year's Jurist Academy class was comprised of students from Bloomsburg University, Brenau University, CUNY Hunter College, Georgia Southern University, Hofstra University, Immaculata University, Indiana University of Pennsylvania, John Jay College, Lincoln University, Middle Tennessee State University, Moravian College, Norfolk State University, Penn State University, Princeton University, Rowan University, Stockton University, SUNY Plattsburgh, University of South Carolina, and Wesley College.
Widener University Delaware Law School recognizes and acknowledges the generosity of the law firms of Richards, Layton & Finger, P.A., Wilmington, Delaware, and Young Conaway Stargatt & Taylor, LLP, Wilmington, Delaware, for their generous sponsorship of the 2018 Jurist Academy program.