Delaware Law Welcomes International Students
1/10/2019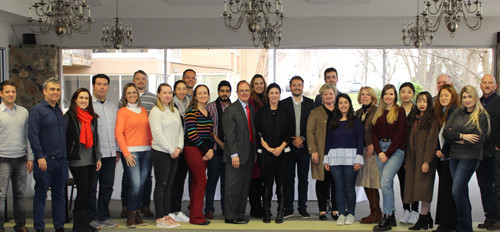 Delaware Law School recently welcomed international graduate students from a diverse range of countries including France, Brazil, and Saudia Arabia, who have come to Delaware for graduate legal studies this Spring. Brief welcoming remarks and a luncheon marked the occasion.
Dean Rod Smolla offered a few brief remarks, welcoming the students and remarking of the American legal system "Probably more than any legal system in the whole world, it is in constant flux – it is in constant change – and we don't think of law, either our public law or our private law, as something you just look up in a book and find the answer to. That's almost never the way it works in the United States. What we think of the law as being, is we have these principles – often in tension with one another, often two principles that are in opposition."
The Graduate, International, Compliance & Legal Studies administrative office coordinates the LLM and SJD programs at Delaware Law School. The university's International Student Services and Programs Office on the Chester campus supports the program and issues immigration documents needed for students to obtain visas to study in Delaware.
In addition to the Dean, the new students heard from several of the Professors who will be teaching them this semester, including Judge Wendy Roberts, Paul Regan, and James May.