Career Development Office and Black Law Students Association partner on Interviewing Skills Workshop
2/13/2019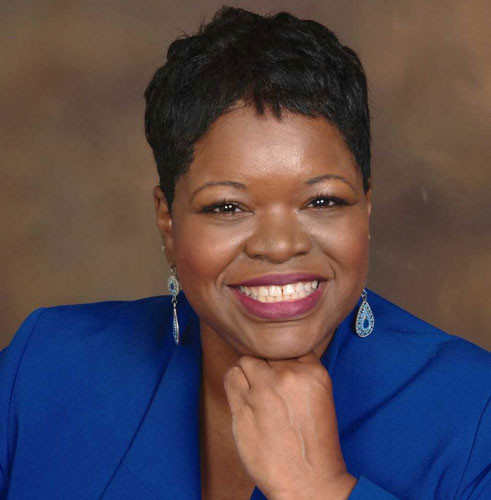 Assistant Dean for Career Development LeaNora J. Ruffin.
Twenty law students took part in an interviewing skills workshop held at Delaware Law on January 29th to learn important tips on how to present themselves in an employment interview. The interviewing skills workshop was co-sponsored by
Delaware Law's Career Development Office and the Black Law Students Association student organization.
Assistant Dean for Career Development LeaNora J. Ruffin presented "Making the Connection: The Art of the Interview." Dean Ruffin said she chose the title of her presentation intentionally, noting that, in her experience, "excelling in the interview is not just about memorizing the 'right' answers. It is an art that often involves the delicate balance between presenting yourself professionally while making a personal connection with the interviewer."
In order to achieve that balance, students must first know their audience, understand the requirements for the role and then figure out how they can prove they possess the requisite qualities or experiences. In addition, students must present this information in a way that resonates with the employer and is memorable.
Dean Ruffin's presentation focused significantly on how students can develop their personal and professional "story"— a few sentences that knit together their relevant skills, capacity for leadership, and character traits. Once developed, this story becomes part of their personal brand and, with practice, can be woven into almost every answer to some degree. This weaving of a student's personal and professional story makes a candidate's resume memorable and, ultimately, increases the odds of advancing to the next level of interviewing.
Two students served as volunteers for brief mock interview demonstrations. In the first demonstration, Dean Ruffin wanted to show a student weaving relevant skills into the interview conversation in a seamless fashion. In the second demonstration, Dean Ruffin conducted a "stress" interview with the student. Typically used by prosecutors or public defenders, stress interview questions intentionally put the student on the defensive in order to see how he or she performs under pressure or in situations where thinking on your feet is required.
After the mock interview sessions, students posed questions to Dean Ruffin on various interviewing topics, including how to respond to the "tell me about yourself" question; appropriate interview dress; addressing questions about your greatest weakness; developing anecdotes to respond to behavioral interview questions; and strategies for following up with the employer after the interview.
Third-year law student and BLSA President Breana Barker said that, "This interviewing skills workshop is a wonderful experience because it provides a level of comfort for the students. I had no idea what to expect when I was a first year law student preparing for a legal interview. Dean Ruffin really put me at ease. She is very honest and knowledgeable about what to expect at an interview."
The Career Development Office hosts approximately 10-15 workshops each year covering job searching skills, professional development topics, and careers in law.