Paralegal School Secretary Retires after 34 Years at Widener University Delaware Law School
3/1/2019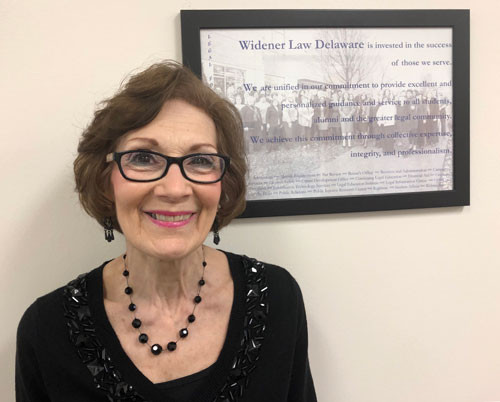 Denise Manelski came to work at Widener University School of Law in 1984 as a receptionist in the Main Law Building and began a 34-year career at the University. A few years later, she transitioned to the Dean's Office and worked for then-dean Anthony Santoro in the Geesey House. Denise's next job transfer brought her to the Legal Education Institute to work with the paralegal studies programs, where she remained for 29 years.
Denise has been an integral point of daily contact for the paralegal studies students throughout every semester, where her duties included processing paralegal applications, managing email communications with the student body, reviewing transcripts, performing degree audits and graduation review for associate and bachelor degree candidates. Denise said that her favorite part of her job was working with all of the students and faculty over the years.
Denise also worked on the law school commencement committee every year and was in charge of coordinating staff and student volunteers and overseeing their assignments on graduation day. Denise used the words "stress" and "panic attack" to describe this annual duty, as she worried whether or not the number of volunteers needed would match the number of volunteers she was able to assemble!
Denise has twice been the recipient of Delaware Law School's Employee Appreciation Award and says how very surprised and appreciative she was to receive this award, adding that "It truly is a morale booster to be recognized for your hard work and dedication."
In retirement, Denise hopes to include some traveling in the coming year, specifically on a Disney Cruise with two of her granddaughters. The girls are looking forward to more time together with Denise, and plan to be at the swim club more often and down at the beach with extended family. Never one to be idle, Denise also has home projects and volunteer work lined up for herself.
When you take a new job, you don't realize that you will make lifelong friends, and Denise made many friends along the way at Widener. When asked what memories she would take with her as she transitions to retirement life, Denise said that "it has been an amazing journey for 34 years. I will especially remember all of the friends that I have made at Widener. Also, all the fun we had at the Christmas parties and WISE luncheons. My best memory is working for (former Dean) Anthony Santoro. Dean Santoro made everyone feel important." She concluded by saying that, "This has been a wonderful journey, and I have met such wonderful people along the way. I will truly miss all of my co-workers."
"Saying farewell to a friend and co-worker is never easy," added Eileen Grena, Assistant Dean for Graduate, International, Compliance, and Legal Studies Programs. "During this bittersweet time, we at Delaware Law School say 'bon voyage' instead of 'farewell'. Thank you for your tireless efforts, your friendship, your smiles, and your years of service. Above all, we wish you a wonderful new journey. You will be missed by many!"