Professor Scheuer Delivers H. Albert Young Distinguished Lecture in Constitutional Law
12/4/2019
Professor Luke M. Scheuer delivered the prestigious H. Albert Young Distinguished Lecture in Constitutional Law for 2019 on November 4th in the Ruby R. Vale Moot Courtroom at Widener University Delaware Law School. Professor Scheuer spent the last two years as the H. Albert Young Fellow in Constitutional Law at Widener University Delaware Law School.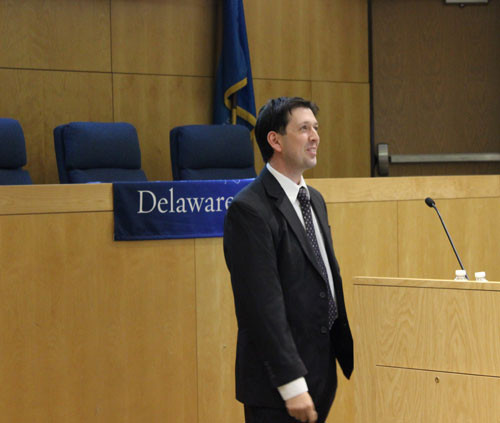 Professor Scheuer spoke about his forthcoming paper, "Pot, the First Amendment, and Taxes: The IRS' Denial of 501(c)(6) Tax-Exempt Status to Marijuana Advocacy Groups." Federal law prohibits the sale, possession and use of marijuana under the Controlled Substances Act. Nevertheless, many states have legalized marijuana for medical or recreational uses and have licensed businesses for the purpose of selling marijuana to the public. As a result, a burgeoning marijuana industry has cropped up, and its participants seek further legalization at the state and federal level. Some of these efforts come from trade groups that are also seeking tax-exempt status under Internal Revenue Code Section 501(c)(6). The Internal Revenue Service ("IRS") has announced that it plans to delay or deny tax-exempt status to pro-legalization organizations while granting this status to groups who lobby against expanded marijuana legalization. As support, the IRS can point to the Supreme Court's decision in Bob Jones University, which held that the IRS can deny 501(c) status to an educational organization which had a racially discrimination admissions policy. The court held that there was a national policy against such practices. Professor Scheuer discussed whether the same is true for denying tax-exempt status based on a speaker's desire to advocate for legalization of marijuana. This talk will appear as an article in a forthcoming edition of the Widener Law Review.
Professor Scheuer, a graduate of Boston College Law School, joined the faculty at Delaware Law in 2011. Before joining Delaware Law School, he taught as an adjunct faculty member at Boston College Law School, the University of Massachusetts School of Law, and Boston University School of Law where he taught advanced legal skills courses on contract and corporate drafting. He held a judicial clerkship in the U.S. District Court for the District of Massachusetts and also worked as a corporate associate at Goodwin Procter LLP in Boston.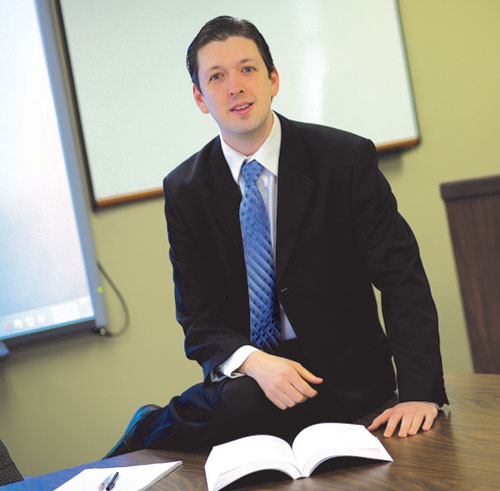 Professor Scheuer is a member of the Delaware Institute of Corporate and Business Law at Delaware Law and he teaches and writes in the areas of corporate law, contracts, mergers and acquisitions, bankruptcy, and corporate finance.
The H. Albert Young Fellowship in Constitutional Law was endowed in 1998 by the Young Foundation of Wilmington, to honor the memory of the late H. Albert Young, Esq., a highly respected lawyer and former Delaware attorney general known for his unwavering dedication to upholding justice even in unpopular cases. His most famous role came in the aftermath of the Brown v. Board of Education decision when, in the face of tremendous opposition, he insisted the ruling be immediately enforced in Delaware.
Past Young Fellows include Professors John G. Culhane, David R. Hodas, Erin Daly, James R. May, Robert C. Power, Alan E. Garfield, Robert L. Hayman, Jr., Laura K. Ray, and the late Robert J. Lipkin. All served a two-year fellowship. Professor Culhane will serve as the H. Albert Young Fellow in Constitutional Law for a second time from 2019-2021.