Delaware Tax Institute Holds Annual Tax Update Conference
1/17/2020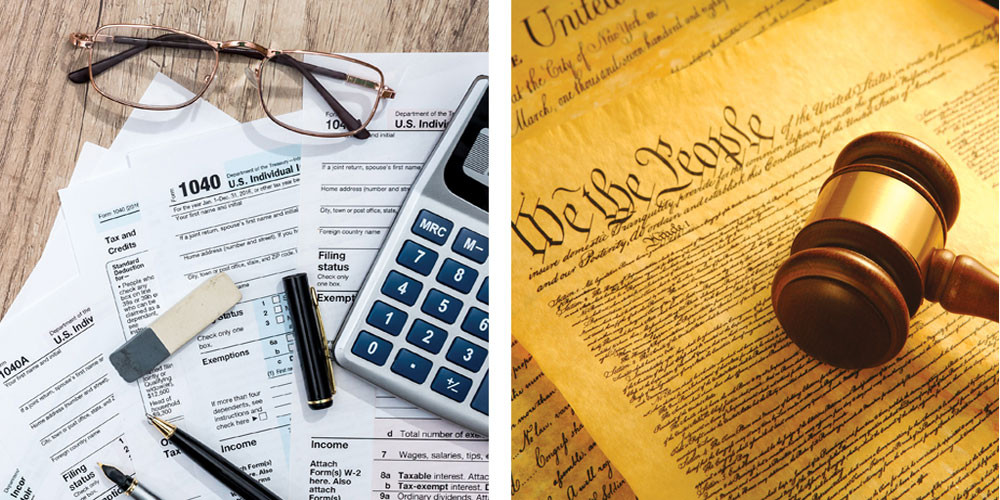 More than 100 attorneys and accountants filled the seats in the Ruby R. Vale Moot Courtroom at Widener University Delaware Law School on Friday, December 6, 2019 for the annual Delaware Tax Institute program.
This year's program, titled 2019: Tax Developments and Planning: Thinking Forward: Strategies & Opportunities, was presented by Widener University Delaware Law School and co-sponsored by the Delaware Chapter of the Society of Financial Service Professionals and the Delaware State Bar Association.
Each year, the Tax Institute conference offers an all-day program providing updates on federal and state income tax developments, recent developments in estate planning, and other topics of import such as presentations on preferred partnership interests, federal and state income tax rules, maintaining civility and fidelity in a changing environment.
Dean Rod Smolla welcomed the speakers and attendees to the 13th Annual Delaware Tax Institute program. A total of six panels featuring 12 speakers presented tax law updates at the conference.
This year's distinguished speaker was Distinguished Speaker Jared Bernstein, Ph.D., Senior Fellow at the Center on Budget and Policy Priorities since 2011 in Washington, DC. Mr. Bernstein was also the Chief Economist and Economic Advisor to Vice President Joe Biden, Executive Director of the White House Task Force on the Middle Class, and a member of President Obama's economic team. Mr. Bernstein holds a Ph.D. in Social Welfare from Columbia University.
The Delaware Tax Institute Planning Committee is comprised of prominent Delaware attorneys and tax professionals – Jocelyn Margolin Borowsky, Esq., Duane Morris LLP; John "Jack" P. Garniewski, Jr., Family Office Solutions, LLC; Daniel F. Hayward, Esq., Gordon, Fournaris & Mammarella, P.A.; Carol G. Kroch, Wilmington Trust Company; Kathryn S. Schultz, CPA, Belfint Lyons & Shuman, P.A.; W. Donald Sparks II, Esq., Richards Layton & Finger, P.A.; Kenneth W. Stewart, CPA, Stephano Slack LLC; Leo E. Strine, CLU, ChFC, Financial House; Vincent C. Thomas, Esq., Young Conaway Stargatt & Taylor, LLP; Carol A.F. Perrupato, CLE Coordinator and Professor Bruce Grohsgal, both of Widener University Delaware Law School.
The tax program is unique in that it offers continuing legal education credits to attorneys as well as continuing professional education credits to accountants and tax professionals. Delaware Law acquired the long-running program from the University of Delaware in 2007.