Healthcare Compliance Symposium 2020
1/31/2020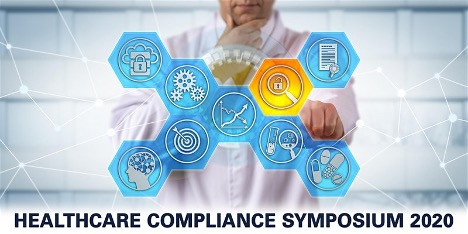 The Graduate, International, Compliance and Legal Studies department of Widener University Delaware Law School is planning their Third Annual Healthcare Compliance Symposium to be held at Delaware Law School on Thursday, April 23, 2020.
The Healthcare Compliance Symposium is a joint effort of Delaware Law School and First Healthcare Compliance to provide resources for professionals serving in the growing field of healthcare compliance. The full-day event will be held in the Ruby R. Vale Moot Courtroom at Delaware Law and will include continental breakfast, lunch, and multiple opportunities for continuing education credits and continuing legal education credits. Attendees will also receive a complimentary copy of "The Fundamentals" guidebook.
Educational sessions will focus on various topics including ethics and patient advocacy, whistleblowers, avoiding fraud, telemedicine, background checks and more. Registration is available to the public with discounted pricing available until March 23, 2020.
Director of Delaware Law Graduate Programs Pamela Beech said, "This is our third Healthcare Compliance Symposium and each year we have built, and improved upon, our offerings for the program. As in previous years, we have a very talented and knowledgeable line-up of speakers who will share the latest trends and best practices in the every-growing, and heavily regulated, healthcare compliance industry. This year we added a session with a panel of experts who will engage with attendees so there will be a cohesive immersion that will provide a collaborative discussion of varying viewpoints. We continually see the need for this level of education and we're looking forward to building on the success of our previous events."
Rachel V. Rose, JD, MBA, a principal with Rachel V. Rose Attorney at Law, P.L.L.C. in Houston, Texas will serve as the Distinguished Speaker at the Symposium.
Ms. Rose has a unique background, having worked in many different facets of healthcare, securities and international law and business throughout her career. Her practice focuses on a variety of cybersecurity, health care and securities law issues related to industry compliance and transactional work, as well as representing plaintiffs in Dodd-Frank/False Claims Act whistleblower claims, which remain under seal.
Ms. Rose holds an MBA with minors in healthcare and entrepreneurship from Vanderbilt University, and a law degree from Stetson University College of Law, where she graduated with various honors, including the National Scribes Award and The William F. Blews Pro Bono Service Award. Ms. Rose is licensed in Texas and is an Affiliated Member with the Baylor College of Medicine's Center for Medical Ethics and Health Policy, where she teaches bioethics.
Founded in 2012 by a nurse attorney, the First Healthcare Compliance software solution creates confidence among compliance professionals through education, resources, and support in the areas of HIPAA, OSHA, human resources compliance, and fraud waste and abuse laws. Serving clients across the United States, the company's evolving platform provides real-time insight for board reporting and across multiple locations.