Town Hall Presentation Examines Presidential Elections and the Constitution
10/30/2020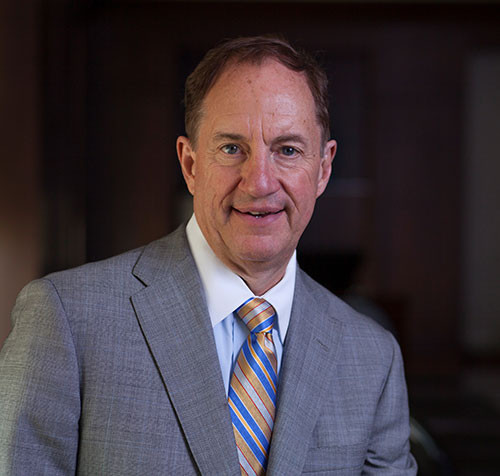 "How severe is the burden on voting?" asked Widener University Delaware Law School Dean Rodney Smolla in reference to one of the first principles in deciding legal challenges brought before the court in election related disputes. Smolla spoke about presidential election case law and the Constitution at a university wide virtual town hall presentation on the evening of Monday, October 26th.
Noting that there are a number of election-related cases pending across the country ahead of the November 3rd, 2020 election, Smolla focused in particular on four cases in Pennsylvania, Wisconsin, Texas, and North Carolina. Noting that the lawyers drafting these complaints are often operating in a matter of days or hours, he said, "All of these cases are taking place in emergency situations."
The case in Pennsylvania involves a three-day extension of mail-in voting ballots. The Pennsylvania courts decided in favor of allowing the extension, but the litigants challenging the order attempted to get the U.S. Supreme Court to issue a stay. The Supreme Court deadlocked four-to-four on the issue and thus did not grant a stay, though Smolla did note that Justice Amy Coney Barrett's recent confirmation could change the way such a dispute might be decided in the future.
After noting that a Wisconsin case that challenged extended deadlines for absentee voting was dismissed, Smolla discussed a case in Texas involving a decision by Governor Greg Abbot to limit ballot drop boxes to one per county. Opponents of the Governor's decision initially won a victory in the lower courts, but the 5th Circuit Court of Appeals overturned the lower court's ruling, deciding that the drop box restriction was not overly burdensome.
After touching on a North Carolina case also involving rules around mail-in ballots, Dean Smolla touched on the Bush v Gore case following the 2000 election. He noted that while many legal scholars were troubled by the legal conclusions reached in that case that it must also be noted that many subsequent efforts have been made to recount the votes in Florida in the 2000 election, but that they all found that Bush narrowly won the popular vote count.
At the conclusion of his remarks, the Dean took a couple of questions from the audience. The first question related to the possibility of "faithless" electors who might opt not to vote for the candidate who won the state's popular election. Noting that state laws vary widely on this issue, Dean Smolla indicated that some states would simply replace the elector with one who would vote in conjunction with the popular vote, while others might impose fines. He also indicated that such a rogue elector could provoke lawsuits.