Top Story
Delaware Law Salutes Prestigious Josiah Oliver Wolcott Fellowship Program
9/22/2021
Five Delaware Law School students recently began serving their clerkships as Wolcott Fellows to the justices of the Supreme Court of Delaware.
As Wolcott Fellows, students serve as judicial clerks, working approximately 20 hours per week, performing legal research, writing draft opinions, and attending weekly oral argument sessions at the Supreme Court Courthouse in Dover, Delaware.
---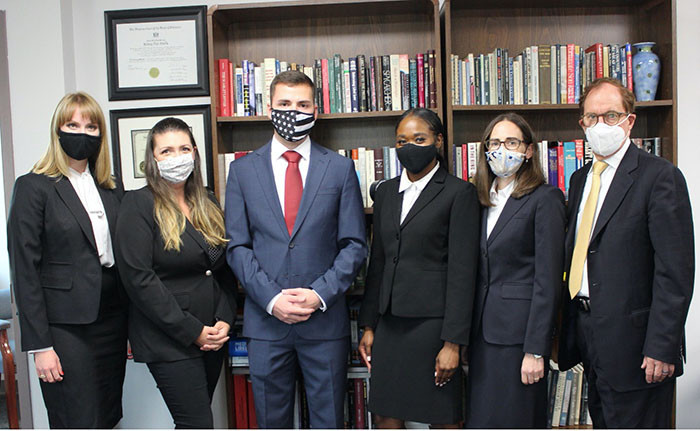 Left to right: Madeline Carlson; Adriane Kappauf; D. Alex Sapp; Quintessa Davis; Terisa Shoremount; Dean Rodney Smolla
---
Wolcott Fellows receive academic credit and either a cash grant or a tuition-remission scholarship grant, funded by Delaware Law School for the duration of their Fellowship with the Court.
The Josiah Oliver Wolcott Fellowship is the only fellowship program in American legal education that offers students an opportunity to serve as a clerk for a justice of a state supreme court.
The program is named for Josiah Oliver Wolcott, a native of Dover, Delaware. Mr. Wolcott was a lawyer, politician, and judge who was elected Delaware attorney general in 1912, and then to the U.S. Senate four years later. He resigned from the Senate in 1921 to become Chancellor of Delaware's renowned Delaware Court of Chancery, where he served until his death in 1938 at age 61.
Current Wolcott Fellow D. Alex Sapp, who works for Chief Justice Collins J. Seitz, Jr., commented that, "Clerking for Chief Justice Seitz and working with his clerks provides an invaluable experience, enabling me to improve my writing skills and understand the law and its application. The environment here encourages the learning and understanding of complicated legal concepts while demonstrating the importance of kindness and hard work. The Court's handling of complex issues and the lawyers who litigate those issues before this Court provide powerful examples of what it means to be a lawyer in Delaware. This opportunity exceeds anything you can learn in a classroom or from a textbook. If I could provide a rating, it would be 5 stars."
The 2021-2022 Wolcott Fellows are:
Madeline Carlson, who is assigned to The Honorable James T. Vaughn, Jr.;
Quintessa Davis, who is assigned to The Honorable Karen L. Valihura;
Adriane Kappauf, who is assigned to The Honorable Tamika R. Montgomery-Reeves;
Alex Sapp, who is assigned to The Honorable Collins J. Seitz, Jr., Chief Justice of the Delaware Supreme Court; and
Terisa Shoremount, who is assigned to The Honorable Gary F. Traynor.
The tradition of Widener University Delaware Law students serving as Wolcott Fellows to the Delaware Supreme Court began in 1988.