Professor Alan Garfield—Rewriting the Story
11/4/2022
By Emma Irving, Widener '18 English alumna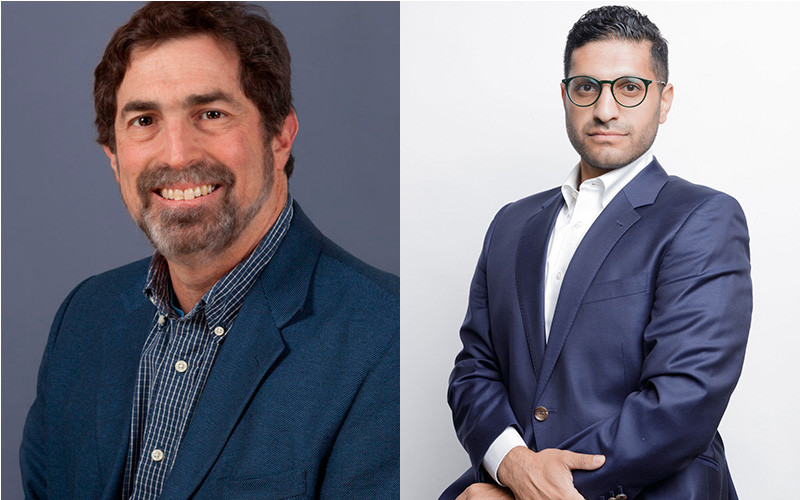 Professor Alan Garfield (left) and Mohammed Shariff '11 (right).
For some students, mentorship mends the gap between struggling and thriving in law school.
Choosing Widener Delaware Law School was easy for Mohammed Shariff '11: The university's proximity to his home, a generous scholarship, an extensive industry network, and high rates of graduate employment told him this was the place to launch his career. But getting started in class proved more of a challenge.
"I didn't know what I was getting myself into during my first semester, and I got poor grades. I wound up on academic probation and came close to ending my education right then," he said.
In his second semester, with a lot on the line, Shariff enrolled in a contract law course with Professor Alan Garfield. A co-founder and administrator of the Widener Delaware Law School Patent Pro Bono Program, Garfield has also won numerous accolades for his teaching, which doesn't stop when class ends.
Shortly after the start of the semester, Shariff visited Garfield's office to introduce himself and let his professor know that he needed help.
"I told him I was in bad shape and needed to get a high grade in his class, or I'd be out of law school," Shariff said.
Garfield responded with direct advice—get up early and read the cases right before class so they're fresh in your mind—as well as a big-picture look at what going through law school was going to be like.
"He made sure I knew the importance of the first few classes, because everything just keeps building on itself. He'd make us repeat what he said in class directly, which definitely drilled the basics of the curriculum into my mind," Shariff said.
Things started clicking into place, and as Shariff started to understand how to approach contracts and cases, his GPA improved. He graduated in 2011 and began doing litigation defense casework, employing questioning that Garfield had taught him in class.
"Having that knowledge from his class gave me a major confidence boost," he added.
Shariff also opened his own firm around this time, which deals heavily in contract law. He still runs the firm and works for Comcast NBC Universal, negotiating real estate and technology contracts.
Garfield's contract law class helped shape the content of Shariff's career, and Garfield's encouragement and advice made it all possible.
"The fact that he was able to turn me, someone who was about to fail out of law school, into a lawyer who could think critically and excel in his career says enough," Shariff concluded. "I would definitely not be where I am today without Professor Garfield's instruction."
For his part, Garfield finds fulfillment and purpose in being a mentor. "The truth is that I've had the good fortune to have such talented, industrious, enthusiastic students," Garfield said. "It's been a joy and a pleasure to see how they've flourished."