General MJ in Global Financial and Cyber Crimes
Financial crimes impact all of us. They include such criminal actions as insider trading, money laundering, terrorist financing, embezzlement, fraud, bribery, and tax evasion.
A career as a professional in the financial crimes industry includes positions such as: Certified Financial Crimes Specialist, Financial Crimes Investigator, Certified Anti-Money Laundering Specialist, Financial Crimes Manager/Analyst, and Certified Fraud Examiner.
Financial crime roles are available in a variety of sectors, including banks, financial services organizations, government agencies, payment companies, healthcare organizations, and law enforcement agencies such as the FBI.
A master's degree in Global Financial and Cyber Crimes can help you jumpstart your career in this exciting and interesting field. The education you receive in this program, will also support preparation for the ACAMS (Association of Certified Anti-Money Laundering Specialists) and ACFE (Association of Certified Fraud Examiners) exams.
---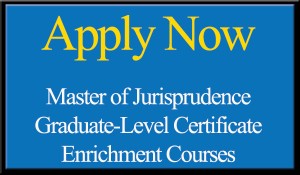 Master's Degree in Global Financial and Cyber Crimes
Program Overview
Delaware Law School's master of jurisprudence degree in Global Financial Crimes prepares students for an exciting career in fraud examination and investigation. The master's degree is 30 credits and can be completed in two years when attending part-time. This master's degree offers non-lawyers, whose professional background is outside of the law, with a foundational understanding of the U.S. legal system, finding and using legal information, communicating legal information, as well as in-depth practical training in the investigative processes for detecting financial crimes.
Examples of Courses Include:
Introduction to Law
Critical Legal Analysis and Writing
Ethics and Compliance Fundamentals and the Profession
Anti-Money Laundering & Terrorist Financing
Financial Crime and Fraud in the Age of Cybersecurity
Financial Crimes Penalties and Tax
Fraud Examination
Cyber Crime and Computer Law
View Global Financial and Cyber Crimes Curriculum (pdf)
View Course Descriptions (pdf)
Eligibility
A bachelor's degree is required. GRE, LSAT, and GMAT are not required.
Additional Program Options
Graduate-level certificate: For interested applicants with some prior legal-related experience seeking a shorter program that can be completed in as little as two academic semesters (fall and spring), the graduate-level certificate option may be the right fit for you.
General master of laws (LLM) degree: For graduates of a U.S. JD program, or an international degree equivalent, the General LLM in global financial crimes is available.
Enrichment Courses: If you want to explore new career possibilities or enhance current skills without committing to a structured program, our compliance programs at Delaware Law offer a variety of online enrichment courses to enhance professional development with exciting courses in healthcare, business, compliance, ethics, cybersecurity, risk management, and financial fraud.
Anti-Fraud Education Partnership
Delaware Law School has partnered with the Association of Certified Fraud Examiners (ACFE) to offer graduate-level training and education in their anti-fraud course, Fraud Examination. This three-credit course provides knowledge to those interested in a career investigating financial fraud. Students are introduced to the practical methods of fraud examination, such as performing internal investigations, identifying internal fraud, detecting financial statement fraud, examining the inside of a "fraudster's" mind, determining asset misappropriation, performing a fraud examination, viewing the inside of a fraud trial, and locating hidden assets during the punishment phase. Students enrolled in at least six course credits in our Master of Jurisprudence or Certificate program are eligible for a reduced student membership rate and other discounts with the ACFE.
Tuition
Please visit the Cost of Attendance page for current tuition rates and other fees and expenses. Financial aid is available for qualified students.