3rd Annual HIPAA Privacy & Security Virtual Summit
This event will be held virtually
11/12/2020
11:59am

-

5:00pm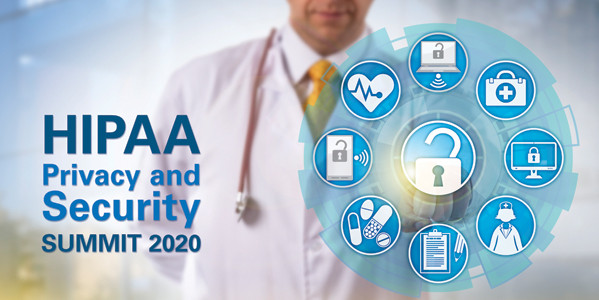 Date and Time: Thursday, November 12, 2020, 12:00 p.m. to 5:00 p.m.
Location: This event will be held virtually.
CLE CREDITS: Attendees are eligible to receive 5.0 CLE credits (4 substantive, 1 ethics) in Delaware, New Jersey, and Pennsylvania.
CEU DETAILS: The HIPAA Privacy and Security Summit 2020 has been reviewed and approved for 5.0 Continuing Education Unit(s) by PAHCOM and Practice Management Institute. This education activity has been submitted to the Compliance Certification Board (CCB)® and is currently pending their review for approval of CCB CEUs.
The HIPAA Privacy & Security Summit 2020 will bring professionals from the healthcare and legal communities together virtually for a day of discussion and learning. Experts will provide helpful insight on timely topics such as notice of privacy practices, patient rights, safeguards, electronic health records, breaches, cybersecurity, and ethics while instructing and leading interactive discussions among attendees to answer common questions and provide practical tips.
Schedule:
12:00- 12:20 Welcome and Panel Discussion with FAQs
First Healthcare Compliance and Delaware Law School GICLS
12:20- 12:50 Distinguished Speaker
John Shegerian, Executive Chairman of ERI
Hardware Data Hacking and HIPAA: the Overlooked Cybercrime
12:50-12:55 Q & A/short break
12:55- 1:55 Rachel V. Rose, JD, MBA
HIPAA Hot Topics
1:55-2:00 Q & A/short break
2:00 - 3:00 Kathleen McNicholas, MD, JD, CHC,CCEP
Ethics and 20 years of HIPAA
3:00 - 3:05 Q & A/short break
3:05-4:05 Rebecca Rakoski, Esq.
Updates on Data Privacy Regulations
4:05 - 4:10 Q& A/short break
4:10-5:10 Iliana Peters, Esq.
What's your nightmare? Cyber-attacks during the COVID public health emergency
5:10 -5:20 HIPAA recap
HEALTHCARE COMPLIANCE GRADUATE DEGREE PROGRAMS FOR LAWYERS AND NON-LAWYERS
Interested in learning more about HIPAA and other healthcare compliance topics? Delaware Law School offers fully online graduate programs in Health Law and Compliance for both lawyers and non-lawyers. Non-lawyers may apply for the Master of Jurisprudence and lawyers may apply for the Master of Law. A graduate-level Certificate is offered as well and both lawyers and non-lawyers are eligible to apply to that program. Complete the master's degrees part time online in two years or the graduate Certificate in just nine months. For more information about our healthcare compliance online graduate degree programs, please email [email protected], call 302-477-2780, or learn more.
For questions related to the event, please contact Director Pamela Beech at [email protected] or 302-477-2139.
This event is open to the public.
Public Registration - please use the link provided directly below to register for the event
---