Continuing Legal Education
Delaware Law's CLE programs help practicing attorneys remain current within a dynamic and ever-changing profession. Led by our nationally recognized faculty—as well as active judges, prosecutors, and partners in major firms—our programs are certified by the Delaware Commission on Legal Education and the Pennsylvania Supreme Court.
Upcoming CLE Events
IMPORTANT NOTICE FROM THE DELAWARE SUPREME COURT:
Delaware Supreme Court Order regarding CLE Programs (pdf)
IMPORTANT NOTICE FROM THE NEW JERSEY SUPREME COURT:
New Jersey Supreme Court Order regarding CLE Distance Learning (pdf)
IMPORTANT NOTICE FROM THE PENNSYLVANIA SUPREME COURT:
Order from the Pennsylvania Supreme Court regarding CLE Distance Learning (pdf)
IMPORTANT NOTICE FROM THE PENNSYLVANIA CONTINUING LEGAL EDUCATION BOARD:
In response to the current public health crisis of the COVID-19 coronavirus, the PA Continuing Legal Education Board acknowledges recommendations by the Pennsylvania Department of Health and the Centers for Disease Control to minimize exposure and transmission of the coronavirus. In support of these efforts, the PA Continuing Legal Education Board announces the following temporary accommodation to continuing legal education requirements.

• The April 30, 2020 CLE compliance deadline is extended to August 31, 2020.

• All other 2020 annual compliance deadlines remain unchanged and on standard schedule.

The Court Order can be viewed here: http://www.pacourts.us/assets/opinions/Supreme/out/832spct-amend.pdf?cb=1
---
All Matters FDA: 11th Annual Food and Drug Law Symposium
The Impact of the New White House Administration: New Bottles New Wine or New Bottles Same Wine
ALL MATTERS FDA promises to be informative, focusing on the Food and Drug Administration's top issues, cases, and "hot topics." Ethical issues will be explored. COVID-19, Cannabis, CBD, Hemp, Enforcement, Food Issues - Toxic Metals Baby Food, Unsafe Pet Products, Opioids, USDOJ and FDA Litigation
Presented by the Delaware County Bar Association and the Delaware Law School Food and Drug Law Association.
Four (4) CLE Credits (including two (2) ethics credits) in DE and PA. NJ Attorneys can self-report with Delaware Law's certificate of attendance. Course materials will be distributed electronically.
Download the brochure (pdf)
---
Blockchain Under Delaware Corporate and Federal Securities Law
Sponsored by Widener Law Review, Widener University Delaware Law School
Friday, March 26, 2021
10:00 a.m.–1:15 p.m.
Via ZOOM
Invited Speakers Include:
Lewis Cohen, Co-Founder of DLx Law
George Geis, Professor at UVA Law School
Andrew Hinkes, Professor at NYU Stern Law School
Donna Redel, Angel Investor and Managing Director of the World Economic Forum
Stephen Rutenberg, Esquire, Shareholder at Polsinelli
Luke Scheuer, Associate Professor of Law at Delaware Law School
Andrea Tinianow, Esquire, Founder, Tinianow Consulting LLC
Download the brochure (pdf)
For questions, contact Carol Perrupato at [email protected].
---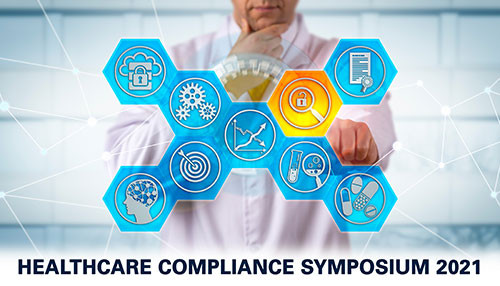 Fourth Annual Healthcare Compliance Symposium 2021, co-hosted by the Graduate, International, Compliance and Legal Studies Department of Delaware Law School and First Healthcare Compliance, being held virtually on Thursday, April 22, 2021, from 11:30 a.m. to 5:45 p.m. CEU information coming soon. CLE available for DE, PA and NJ, credit count coming soon. For questions about the event please contact Director Pamela Beech at [email protected].
This event is open to the public. Early bird rate of $99 until March 1, 2021. Thereafter, rate is $129. Delaware Law School Alumni rate is $99. See a detailed agenda and find online registration and payment information.
This event is free for Delaware Law School Faculty and Students. Delaware Law School Faculty and Students may view the detailed agenda and register for free here.
---
This list is updated as CLE events are added to the schedule. Please check back regularly to view - and register for - the most up-to-date opportunities.