Events and Activities - Dignity Law Institute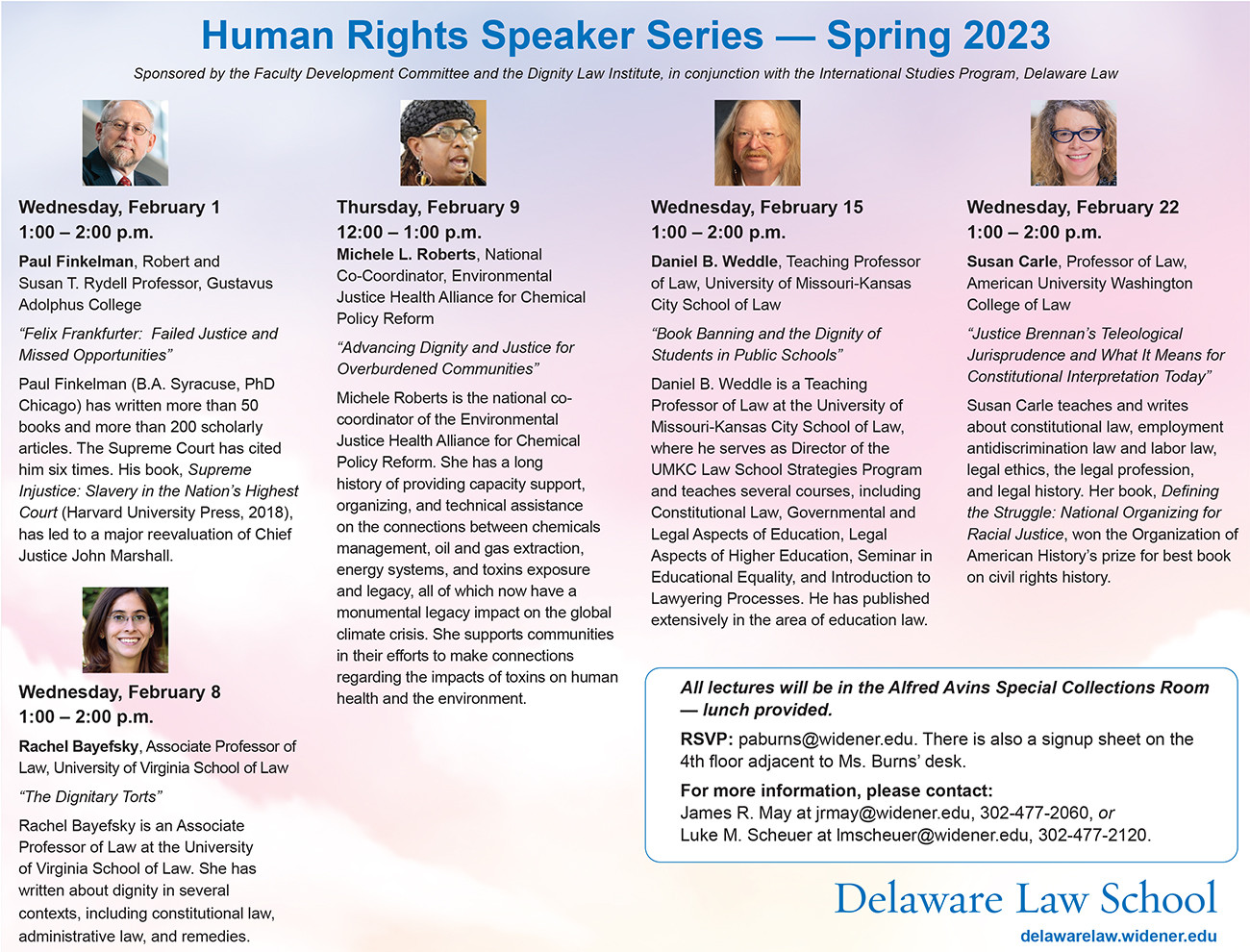 The Dignity Law Institute is pleased to share important new resources in Dignity Law, developed by Delaware Law Students and others.
The Dignity Law Institute is pleased to partner with the Dignity Rights Initiative at the American Bar Association Center for Human Rights on a series of webinars on Ethnocide and Dignity. You can watch Professor Jim May's conversation with Barrett Holmes Pitner here through June 27, 2022: The Crime Without a Name Ethnocide and the Erasure of Culture in America A Conversation with Author Barrett Holmes Pitner (.mp4) and you can watch the conversation between Barrett Holmes Pitner and Professor Erin Daly, moderated by Judge Bernice B. Donald, of the Sixth Circuit Court of Appeals: Ethnocide and Dignity Rights: Lessons for Today.
Dignity and Criminal Law. Students in the Dignity Rights Clinic are working with people who are presently incarcerated on Dignity In the Criminal Legal System: A Handbook for Litigation, Advocacy, and Reform, in an ongoing, 2-year partnership with the Prisoner Legal Advocacy Network. The Clinic held a day-long conference, co-sponsored by Delaware Humanities, devoted to recognizing dignity in the criminal legal system in Delaware.
The American Bar Association unanimously adopted a resolution affirming "that human dignity — the inherent, equal, and inalienable worth of every person — is foundational to a just rule of law" and urging "governments to ensure that 'dignity rights' – the principle that human dignity is fundamental to all areas of law and policy — be reflected in the exercise of their legislative, executive, and judicial functions."
The Report supporting the Resolution was developed as a project of the Dignity Rights Project Practicum and draws on the work of Erin Daly, Dignity Rights: Courts, Constitutions, and the Worth of the Human Person (Penn 2013); Erin Daly & James R. May, A Dignity Rights Primer, https://papers.ssrn.com/sol3/papers.cfm?abstract_id=3252694 and the work of Sara E. Evans '19. The Resolution was sponsored by the ABA Center for Human Rights.
The resolution will have the immediate effect of strengthening the ABA's work in several ways. First, it will ensure that the ABA is on solid policy ground when it condemns practices, such as torture, humiliation and invidious discrimination. Second, it will provide support for ABA activities that are designed to advance human dignity, policies and practices that promote rule of law, democratic and political rights, and other civil rights. Third, it will provide a vocabulary for defending liberty and pursuing justice. Fourth, it will serve as a unifying principal to reflect what matters most to Association: "Defending liberty and pursuing justice."
The Dignity Rights Project is proud to have partnered with the ABA Center for Human Rights in support of this Resolution.
"As constitutions explicitly protect human dignity, and courts [give it] meaning, people around the world increasingly develop a feeling of dignity – an internalized awareness of their own worth and of the power it carries."
– Erin Daly, Dignity Rights: Courts, Constitutions, and
the Worth of the Human Person (Penn Press 2012, 2020).
Virtual Workshops: 2-hour discussions with practitioners, advocates, scholars, and students on the evolving law of dignity rights. Issues have included indigenous and minority group rights, gendered impacts, environmental justice, the rights of inmates, and structures and systems of dignity knowledge and research.
Participants from Albania, Bhutan, Canada, Colombia, Israel, Nigeria, Norway, Pakistan, Portugal, Spain, South Africa, the U.K., the U.S., Uruguay, and elsewhere have shared their work, knowledge and insights in these interactive forums.
It was wonderful experiencing the proximity of thoughts and the convergence of efforts towards an inspiring cause. These seminars are truly uplifting!
--Alexandra Aragão
Faculdade De Direito
Universidade De Coimbra
Dignity Rights Practicum
Each year, the DRP offers a Dignity Rights Practicum for JD and LLM students at Delaware Law School. Students work in groups or individually with partners to help develop theoretical arguments and practical strategies to advance dignity rights. Students talk about their experience in this video. This semester, students are working with
an environmental law clinic in Colombia to help protect coral reefs to sustain the dignity of the indigenous groups who depend on it
an immigration lawyer helping to protect the dignity of war refugees in Europe
a civic organization for Roma Youth in Albania seeking to protect the dignity of the Roma community in their access to voting and protection from discrimination
a grassroots organization advancing environmental justice for residents of Wilmington, Delaware
the Lenape Tribe of Delaware, seeking to advance tribal dignity through enhanced understanding, communication, and reconciliation with other communities in the state.
Past classes have included partnerships with the Institute for Justice and Democracy in Haiti (working on UN reparations for cholera epidemic) and Center for Environmental Rights in Cape Town, South Africa.
"Being a part of the Dignity Rights Project and taking the practicum course has been one of the most rewarding experiences I've had during law school thus far."
-Madison McGuirk, L'18, Delaware Law
"The Dignity Rights Project is an exciting and challenging experience because we get to discuss complex subjects with professors who value their students' thoughts and opinions. We get to create a body of legal research that has the potential to directly help our partners in achieving their goals."
-Kacee Benson, L'19, Delaware Law
Please contact us if you would like to discuss opportunities for partnering with our students.
Advocacy
In 2021, we filed a Petition [English version (pdf) | French version (pdf)] with the InterAmerican Commission on Human Rights to address adverse environmental conditions in Cité Soleil, Port-Au-Prince, Haiti.
In 2022, we filed a Complaint with UN Special Rapporteurs to address these conditions.
Professors Jim May and Erin Daly have submitted Amicus Briefs to the 9th Circuit from the Dignity Rights Center on behalf of Law Professors in Support of Plaintiffs Kelsey Cascadia Rose Juliana and others, in atmospheric trust litigation brought by Our Childrens' Trust against the Government for actions contributing to climate change.
The first brief, on behalf of more than 60 law professors, was submitted on the Government's motion for mandamus in 2017 and the second, on behalf of more than 80 law professors, was submitted in 2019 upon the district court's certification of an interlocutory appeal.
In November 2016, the District Court had found that the young plaintiffs had adequately pled that the government had violated their substantive due process rights to liberty under Fifth Amendment, arguing that the right to liberty includes the right to live in a climate capable of sustaining human life. The plaintiffs pled several other causes of action including deprivation of equal protection for a fundamental right and public trust doctrine. Since then, the Administration has repeatedly sought mandamus and interlocutory appeals to the 9th circuit and the Supreme Court.
You can read the 2017 brief here, the 2019 brief here, and the 2020 brief here.
Webinar
The DRP and PILnet, The Global Network for Public Interest Law, held a Webinar for human rights lawyers from across the MENA region to discuss right to dignity which is protected in most of the constitutions of the region and features prominently especially in the post-Arab Spring constitutions. Dignity could serve as a framework for advancing human rights in cases ranging from the conditions of detention, to free speech and free association, to access to education, food, and shelter. Professors Daly and May also met with PILnet's Fellows from South Africa, Lebanon, and the United States.
This was the first in a series of events to be held jointly with PILnet.
Please contact us if you would like more information about the webinar, or about opportunities for other video programming.