Dignity Rights Institute
---
Human dignity recognizes the equal and inalienable value of every member of the human family. It is recognized in the International Bill of Rights, and in most Human Rights Instruments, including the Sustainable Development Goals. It is incorporated in more than 160 constitutions and courts around the world are increasingly vindicating dignity rights in civil, political, social, economic, cultural and environmental contexts. Dignity Law is an emerging, global, and foundational area of law and Delaware Law's Dignity Rights Institute is the first program in the nation dedicated to the advancement of human dignity through law.
The Dignity Rights Institute is the only law school program dedicated to expanding the legal right to live with dignity. It offers students opportunities for experiential learning and practical applications works with legal, academic, non-profit, community-based organizations in all parts of the world as well as national and international advocacy groups to advance the human right to dignity. The Institute houses the Dignity Rights Clinic, sponsors research opportunities, and develops working partnerships. For more information and for opportunities to get involved, please email [email protected]
The American Bar Association unanimously adopted a resolution affirming "that human dignity — the inherent, equal, and inalienable worth of every person — is foundational to a just rule of law" and urging "governments to ensure that 'dignity rights' – the principle that human dignity is fundamental to all areas of law and policy — be reflected in the exercise of their legislative, executive, and judicial functions."
The Report supporting the Resolution was developed as a project of the Dignity Rights Project Practicum and draws on the work of Erin Daly, Dignity Rights: Courts, Constitutions, and the Worth of the Human Person (Penn 2013); Erin Daly & James R. May, A Dignity Rights Primer, https://papers.ssrn.com/sol3/papers.cfm?abstract_id=3252694 and the work of Sara E. Evans '19. The Resolution was sponsored by the ABA Center for Human Rights.
The resolution will have the immediate effect of strengthening the ABA's work in several ways. First, it will ensure that the ABA is on solid policy ground when it condemns practices, such as torture, humiliation and invidious discrimination. Second, it will provide support for ABA activities that are designed to advance human dignity, policies and practices that promote rule of law, democratic and political rights, and other civil rights. Third, it will provide a vocabulary for defending liberty and pursuing justice. Fourth, it will serve as a unifying principal to reflect what matters most to Association: "Defending liberty and pursuing justice."
The Dignity Rights Project is proud to have partnered with the ABA Center for Human Rights in support of this Resolution.
"As constitutions explicitly protect human dignity, and courts [give it] meaning, people around the world increasingly develop a feeling of dignity – an internalized awareness of their own worth and of the power it carries."
– Erin Daly, Dignity Rights: Courts, Constitutions, and
the Worth of the Human Person (Penn Press 2012, 2020).
About Dignity Rights
The Dignity Rights Institute works with partners locally and around the world to advance knowledge and capacity-building around the right to human dignity.
Recent projects include:
Dignity Rights Handbooks for Judges and Civil Society Organizations
Petition to the Inter-American Human Rights Commission on behalf of children in Haiti
Dignity-based proposals to reform indigenous constitutions.
Submission to the United Nations High Commission for Human Rights on the dignity rights of children in the face of climate change.
White papers on environmental injustice, educational injustice, discrimination, and the dignity rights of vulnerable and marginalized communities around the world.
Reform proposals to improve conditions for people who are or have been incarcerated in Delaware.
"The Dignity Rights Project seeks to make these voices heard and these injustices visible so that they can be addressed. It further seeks to make changes in law, policy, even in small day-to-day ways of doing things. Dignity is actionable through all sorts of channels that we will have to explore as well as create."
- Catherine Dupré, author
of The Age of Dignity
This year, students are working with the National Lawyers' Guild Prisoner Advocacy Network to develop a Handbook for Dignity in the Criminal Justice System aimed at jailhouse lawyers, and other advocates, reformers, and policy makers.
Who We Are
Erin Daly is Professor of Law, Widener University Delaware Law School (USA), and Vice President, Institutional Development, UNIFA (Université de la Fondation Aristide) in Haiti. She is the author of Dignity Rights: Courts, Constitutions, and the Worth of the Human Person (Penn Constitution and Democracy Series) and the co-author of Reconciliation in Divided Societies: Finding Common Ground (Penn Series on Human Rights). She also directs the Global Network for Human Rights and the Environment. She was interim dean of the Law School 2013-2015.The Dignity Rights Project is co-directed by Erin Daly and James R. May.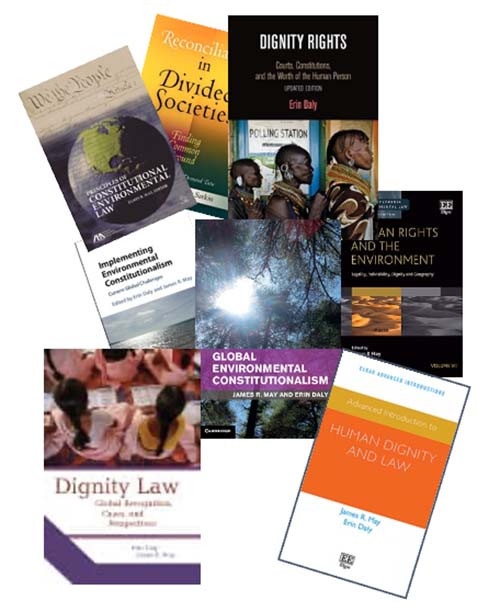 James R. May is Distinguished Professor of Law, Widener University Delaware Law School (USA). He is the author or co-author and editor or co-editor of 10 books and more than 100 articles and chapters, including Standards of Environmental Rights (Cambridge University Press), Principles of Constitutional Environmental Law (American Bar Association) and co-editor of Shale Gas and the Future of Energy (Edward Elgar). May has been inducted into Phi Kappa Phi and the American College of Environmental Lawyers. His work focuses on comparative environmental constitutionalism and dignity rights.
Together, they have written and edited numerous books including:
HUMAN RIGHTS AND THE ENVIRONMENT: INDIVISIBILITY, DIGNITY, AND LEGALITY, part of Encyclopedia of Environmental Law (forthcoming Edward Elgar Press 2019)
IMPLEMENTING ENVIRONMENTAL CONSTITUTIONALISM (Cambridge University Press 2018)
NEW FRONTIERS IN ENVIRONMENTAL CONSTITUTIONALISM, (United Nations Environment 2017)
JUDICIAL HANDBOOK ON ENVIRONMENTAL CONSTITUTIONALISM (United Nations Environment 3d ed. 2019)
THE INTERNATIONAL LIBRARY OF CRITICAL WRITINGS ON LAW AND THE ENVIRONMENT: ENVIRONMENTAL CONSTITUTIONALISM (Edward Elgar 2016, 2 vols.)
GLOBAL ENVIRONMENTAL CONSTITUTIONALISM (Cambridge University Press 2015)
Jointly and separately, they have also written numerous articles and chapters on environmental law, comparative constitutional and international law, and transitional justice.
SELECTED PAST AND PRESENT PARTNERS of the Dignity Rights Institute (Project) at Delaware Law
American Bar Association Center for Human Rights, Dignity Rights Initiative (current)
Business and Human Rights Resource Center
Center for Applied Legal Studies, University of Witswatersrand, South Africa
Chester Environmental Partnership, Chester, U.S.
Coming Clean, Delaware
Dignity Media, Nepal
Delaware Concerned Residents 4 Environmental Justice
Environmental Law Institute
Lenape Indian Tribe, Delaware, U.S.
Institute for Justice and Democracy in Haiti/Bureau des Avocats Internationales, Boston, U.S. and Port-au-Prince, Haiti
Institute of Romani Culture in Albania (IRCA)
Jigme Singjigme Singye Wangchuck School of Law, Bhutan
National Lawyers' Guild Prisoners Legal Advocacy Network (current)
Pakistan College of Law Dignity Rights Center (current)
Pakistan Supreme Court (current) and High Court of Lahore, Pakistan
PILnet, New York, U.S.
Refugee Legal Support – UK and Greece
SOMRAR – Human Rights in Somaliland
United Nations Environment (formerly UNEP)
United Nations International Organization for Migration
Universidad del Norte, Baranquilla, Colombia
Université de la Fondation Aristide, Haiti
"Human dignity refers to the inherent humanness of each person. It is not an attribute or an interest to be protected or advanced, like liberty or equality or a house or free speech. Rather, human dignity is the essence of our being, without which we would not be human. Human dignity recognizes and reflects the equal worth of each and every member of the human family, regardless of gender, race, social or political status, talents, merit, or any other differentiator."
-Erin Daly and James R. May,
Dignity Rights: A Synopsis (2017)