Dignity Law Institute
In August 2021 Widener's Dignity Law Program filed a Complaint to Special Rapporteurs with the UN Human Rights Council to protect human rights and Promote Environmental Justice in Haiti.
On April 14, the Rapporteurs issued a report and request for action to the Haitian government. See reports in French and English.
On July 8, 2022, the Rapporteurs issued a joint statement expressing "alarm" and encouraging action to address "extreme environmental injustice" in Haiti, especially concerning toxic waste, fumes and water enveloping Cité Soleil, the poorest community in the poorest city in the poorest country in the Western Hemisphere: https://www.ohchr.org/en/press-releases/2022/07/haiti-un-experts-alarmed-extreme-environmental-injustice-cite-soleil.
Students in the Dignity Rights Practicum at Delaware Law's Dignity Rights Institute assisted with research and drafting.
---
The Dignity Law Institute is the only law school program in the country dedicated to the legal right to live with dignity.
The Dignity Law Institute offers students opportunities for experiential learning and practical applications in partnership with legal, academic, non-profit, community-based organizations in all parts of the world as well as national and international advocacy groups -- all to advance the human right to dignity! The Institute houses the Dignity Rights Clinic, sponsors research opportunities, and develops working partnerships.
Human dignity recognizes the equal and inalienable value of every member of the human family. It is recognized in the International Bill of Rights, and in most Human Rights Instruments, including the Sustainable Development Goals. It is incorporated into most of the world's constitutions, and courts around the world are increasingly vindicating dignity rights in civil, political, social, economic, cultural and environmental contexts. Dignity Law is an emerging, global, and foundational area of law that touches every aspect of the human experience.
Co-Directors: Erin Daly | James R. May
For more information, please email either [email protected] or James R. May at [email protected].
Who We Are
Erin Daly is Professor of Law and the author of Dignity Rights: Courts, Constitutions and the Worth of the Human Person, with a Foreword by former President of the Israeli Supreme Court, Aharon Barak. Dignity Rights illustrates how courts use dignity rights and values to strengthen political engagement while redefining what it means to be human in the modern world.
Erin has served as Interim Dean of Widener University Delaware Law School, where she directs the Dignity Rights Clinic. She currently serves as the US National Correspondent for the Centre international de droit comparé de l'environnement (CIDCE), as a member of the Normandy Chair for Peace and of the Scientific Committee of the Global Pandemic Network. She works with the Université de la Fondation Aristide (UNIFA) in Haiti.
A partial bibliography includes: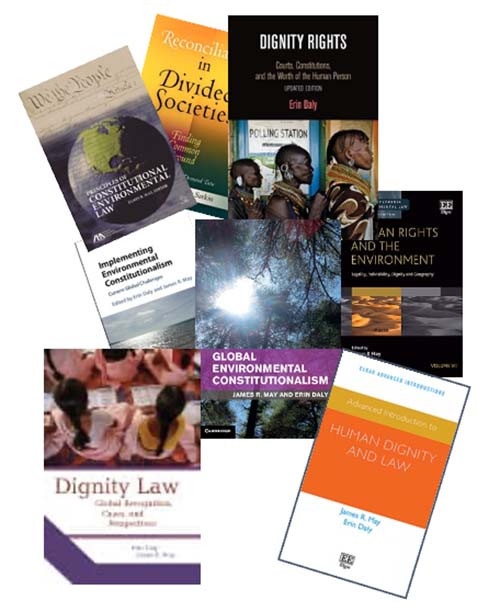 James R. May is Distinguished Professor of Law, and co-Founder of the Dignity Law Institute and Dignity Rights Practicum at Widener University Delaware Law School. May is the co-Founder and founding President of Dignity Rights International and serves on the Advisory Board of the Dignity Rights Initiative of the American Bar Association.
May is a human and environmental rights lawyer and litigator. With Erin Daly, May has authored, co-authored, edited or co-edited 21 books, including Dignity Under Law: A Global Handbook for Civil Society (Dignity Rights International, 2021) available here, Dignity Under Law: A Global Handbook for Jurists (Dignity Rights International, 2021) available here, Dignity Law: Global Recognition, Cases and Perspectives (W.S. Hein 2020), and the Advanced Introduction to Human Dignity and the Law, Elgar Advanced Introductions series, (Edward Elgar 2020), available here; Dignity Rights for a Pandemic, 17 Law Culture, and the Humanities __ (2021) (forthcoming), SSRN here; Human Dignity and Environmental Outcomes in Pakistan, 10 Pakistan L. Rev. 1 (2019), SSRN here; Why Dignity Rights Matter, 19 European Human Rights L. Rev. 129 (2019), SSRN here; Putting Dignity in Practice: Implementing the American Bar Association's Recognition of Human Dignity As Foundational to the Rule of Law, American Bar Association, Center for Human Rights 2021, Edited Series, SSRN here; "Dignity Law and Practice in America," Report to the House of Delegates, American Bar Association, Center for Human Rights, Section of Civil Rights and Social Justice (June 2019), with et al., available here.
SELECTED PAST AND PRESENT PARTNERS of the Dignity Law Institute
American Bar Association Center for Human Rights, Dignity Rights Initiative
Business and Human Rights Resource Center
Center for Applied Legal Studies, University of Witswatersrand, South Africa
Chester Environmental Partnership, Chester, U.S.
Coming Clean, Delaware
Dignity Media, Nepal
Delaware Concerned Residents 4 Environmental Justice
Environmental Law Institute
Lenape Indian Tribe, Delaware, U.S.
Institute for Justice and Democracy in Haiti/Bureau des Avocats Internationales, Boston, U.S. and Port-au-Prince, Haiti
Institute of Romani Culture in Albania (IRCA)
Jigme Singjigme Singye Wangchuck School of Law, Bhutan
Pakistan College of Law Dignity Rights Center
Pakistan Supreme Court and High Court of Lahore, Pakistan
Prisoners Legal Advocacy Network
PILnet, New York, U.S.
Refugee Legal Support – UK and Greece
SOMRAR – Human Rights in Somaliland
United Nations Environment (formerly UNEP)
United Nations International Organization for Migration
Universidad del Norte, Baranquilla, Colombia
Université de la Fondation Aristide, Haiti
"Human dignity refers to the inherent humanness of each person. It is not an attribute or an interest to be protected or advanced, like liberty or equality or a house or free speech. Rather, human dignity is the essence of our being, without which we would not be human. Human dignity recognizes and reflects the equal worth of each and every member of the human family, regardless of gender, race, social or political status, talents, merit, or any other differentiator."
-Erin Daly and James R. May,
Dignity Rights: A Synopsis (2017)