Volunteer
Give back to feel good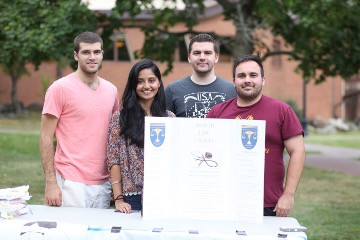 When researchers at the London School of Economics examined the relationship between volunteering and measures of happiness in a large group of U.S. adults, they found that the more people volunteer, the happier they are. Other research has found that volunteering can reduce heart rate and blood pressure, increase endorphin production, enhance the immune system, and offset the impact of stress.
Donating your time and energy through volunteer work offers additional benefits, including:
Volunteering addresses serious social issues and helps people who need it most.
Volunteering helps to avoid social isolation and increase the feeling of connection with others.
Volunteering can boost self-esteem and confidence.
Volunteering can lead to the discovery of new interests and the development of new skills.
Public Interest Resource Center
The law school's Public Interest Law Center helps to place law students with local public-interest organizations that need pro bono assistance.
Other local volunteer opportunities