Delaware Technical and Community College and Delaware Law School To Collaborate
3/17/2017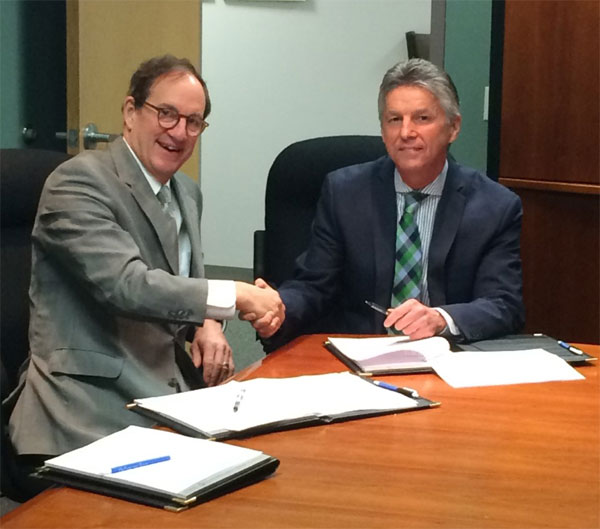 From left, Dean Smolla with President Brainard.
Wilmington, DE – Delaware Technical Community College and Widener University Delaware Law School have entered an articulation agreement that will give Delaware Technical Community College students the opportunity to earn a Bachelor of Science Degree in Legal Studies and Paralegal Certificate from Widener University Delaware Law School.
Under the agreement, students who have completed the associate degree with a cumulative GPA of 2.0 or higher will automatically be accepted into the baccalaureate program at Widener University and will receive 57 transfer credits that apply to graduation requires for the Bachelor of Science Degree in Legal Studies. As a result, 63 credits will remain to be taken at Delaware Law School to earn the Bachelor's Degree. Students intending to transfer should complete the admissions application for Widener University following the third semester of their associate degree program. Students completing a total of 24 paralegal credits will also receive a Certificate in Paralegal Studies.
According to Delaware Tech President Mark T. Brainard, who is a graduate of both institutions, "This agreement provides a valuable pipeline for our students and allows them to leverage the SEED Scholarship program on their journey toward a bachelor's degree."
Delaware Law School Dean Rodney A. Smolla said he was pleased to see the two schools collaborate. "The Delaware Law School is delighted to embark on this new partnership with Delaware Tech. This collaboration will strengthen both institutions and contribute to educational opportunities in Delaware." A photo of Dean Smolla and President Brainard is here – starting left, Dean Smolla with President Brainard.
Delaware Technical Community College is a statewide multi-campus community college committed to providing affordable, open admission, post-secondary education that is relevant and responsive to labor market and community needs. The College offers comprehensive educational opportunities that contribute to the economic vitality of the State, including career, general, developmental, and transfer education; workforce development; and lifelong learning. The College respects its students as individuals and as members of diverse groups and is committed to fostering student success in higher education as a means to economic and personal advancement.
Widener University is a metropolitan university that connects curricula to social issues through civic engagement. Dynamic teaching, active scholarship, personal attention, applied leadership and experiential learning are key components of the Widener experience. Delaware Law School is the First State's only law school, providing juris doctor, legal graduate and paralegal degree programs with an emphasis on developing legal professionals who reflect the Delaware Way and its traditions of civility, integrity and mutual respect. The school offers signature programs in corporate and business law, environmental law, family health law and policy, and trial advocacy.