Vanderbilt Professor Delivers 33rd Annual Pileggi Lecture
11/28/2017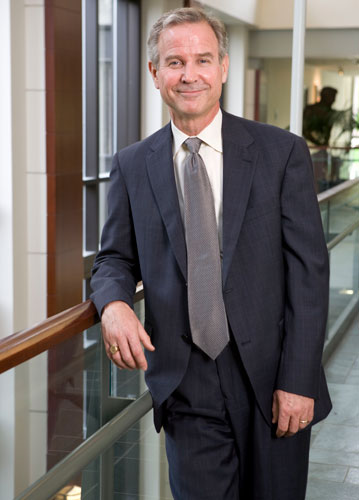 The Delaware Journal of Corporate Law of Widener University Delaware Law School proudly sponsored the 33rd Annual Francis G. Pileggi Distinguished Lecture in Corporate Law in late October at the Hotel Du Pont in Wilmington, DE.
The Lecture was delivered by Professor Randall S. Thomas, the John S. Beasley II Chair in Law and Business and the Director of the Law and Business Program at the Owen Graduate School of Management at Vanderbilt Law School.
Professor Thomas has earned a reputation of being one of the most productive and thoughtful corporate and securities law scholars in the nation. His recent work addresses issues such as hedge fund shareholder activism, executive compensation, corporate voting, corporate litigation, shareholder voting, and mergers and acquisitions.
In his presentation, "Is Delaware Retreating?", Professor Thomas explored the evolving changes in Delaware corporate case law that have resulted in what he regards as a shift toward Delaware Courts giving more deference to independent boards' decisions and the greater use of shareholder approval of board actions. Professor Thomas supports this shift toward less judicial interference in board decision making because of emerging practical changes in corporate governance – in particular, the rise and influence of hedge fund activism – that have enhanced the role of shareholder monitoring.
Professor Thomas joined the law faculty at Vanderbilt in 2000 to develop and direct the Law and Business Program, having served previously for ten years on the law faculty at the University of Iowa. Prior to teaching law, Professor Thomas was in private practice for four years and was a law clerk for U.S. District Judge Charles Joiner of the Eastern District of Michigan.
Professor Thomas holds a Ph.D. in Economics and a J.D. from the University of Michigan and an undergraduate degree from Haverford College.
History of the Pileggi Lecture
In 1985, Francis G.X. Pileggi, who was then the Internal Managing Editor for the Delaware Journal of Corporate Law, envisioned creating a forum where practitioners, judges, and academics, distinguished in the area of corporate law, could speak directly to those most responsible for setting policy on corporate law in the United States – the Delaware bench and bar. Through his efforts and the generosity of his father, Francis G. Pileggi, Esquire, the idea turned into reality. The lecture continues today through the members of the Delaware Journal of Corporate Law and the continued generosity of the Pileggi family.