Delaware Law Celebrates 44th Graduating Class
5/23/2018
Dean Rodney A. Smolla welcomed the 44th graduating class of Widener University Delaware Law School to their commencement exercises on Saturday, May 19, on the lawn at Delaware Law School. Widener University President Julie E. Wollman conferred degrees to 158 law graduates, and offered remarks and congratulations as well.
Graduates heard from Commencement Speaker The Honorable Gary F. Traynor '82, associate justice of the Delaware Supreme Court and recipient of an Honorary Doctor of Laws degree from the law school. Provost Fred A. Akl and President Wollman conferred the honorary degree on Justice Traynor and Secretary of the Widener University Board of Trustees Eugene D. McGurk, Jr., Esq., read the Citation.
Referring to his investiture as an associate justice last summer, Justice Traynor shared that he felt a deep sense of gratitude and encouraged the graduates to realize the importance of gratitude. He said, "We are never the lone authors of our successes in this world. Pursue as you might, it is God's grace and the support, encouragement, the patience, the helping hand, the forgiveness, the second, third and fourth chances offered by others that provide the foundation of our accomplishments. We do not owe gratitude to ourselves. Contentment can be found in the understanding that a debt of gratitude is owed, even when—and, perhaps especially when—that debt is impossible to pay. To be conscious of gratitude is to acknowledge a gift, and gifts by their very nature are undeserved. And because gifts are undeserved and our debts of gratitude can sometimes be impossible to repay, it is that much more important and necessary that we express our thanks when we have an opportunity to do so."
---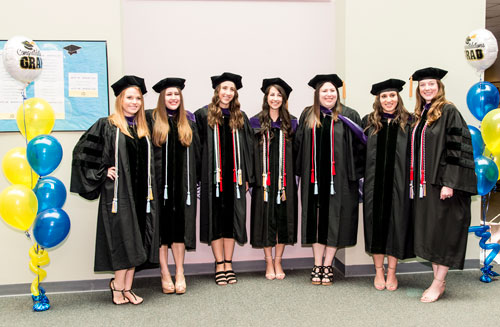 ---
Additional speakers included Delaware Law Alumni Association President Renae B. Axelrod, Esq. '91 who welcomed the graduates to the Alumni Association, and Dean's Award Winner and class valedictorian Tricia M. Kazinetz.
The ceremony also included the presentation of the Outstanding Faculty Award to two fulltime Delaware Law School faculty members. Determined by a vote of the graduating class, the award was presented to Associate Professors Leslie A. Johnson and Paul L. Regan as a result of a tie in the voting.
In his closing remarks, Dean Rod Smolla noted, "To everything there is a season, and a time to every purpose under heaven. This is a time to dance, and a time to celebrate and give thanks with family and friends. It will soon be a time for you to exercise judgment on behalf of clients, and to commit to a life of protection for the rule of law, the protection of human rights, and the never-ending human quest for justice."