A Place of Honor for The Honorable Randy J. Holland
6/20/2018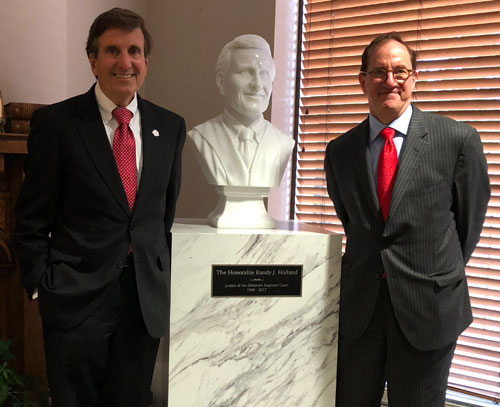 Dean Rodney A. Smolla welcomed members of the Randy J. Holland Delaware Workers' Compensation Inn of Court to a special unveiling of the bust of The Honorable Randy J. Holland at the Delaware Law School on May 14. Holland was joined by family members, as well as Delaware Law School faculty members, who gathered in the Legal Information Center for the occasion.
"The dedication of Justice Holland's bust was festive and meaningful for us all," Smolla said. "We are most grateful to the Holland Inn of Court for presenting the bust to Justice Holland, and grateful to both the Inn and Justice Holland for allowing the Delaware Law School to be its home for permanent display."
Holland retired from the Delaware Supreme Court in March 2017 after serving for 30 years on the court where he was recognized as an expert on corporation law, corporate governance, appellate practice, and state constitutional law. When he took his oath of office in 1986, at age 39, he was the youngest person to serve on the Delaware Supreme Court.
He was reappointed to a second twelve-year term by then-Gov. Thomas R. Carper. In 2009, he became the longest-serving justice in the history of Delaware and was appointed to an unprecedented third term by then-Gov. Jack A. Markell. In 2017, Gov. John C. Carney, Jr. awarded him the "Order Of The First State."
"Justice Holland is a towering figure among jurists in Delaware, the United States, and the world," Smolla said. "He has been a member of our faculty for decades, and is now our Distinguished Jurist in Residence. It is an honor and privilege to have him as our colleague and friend, and we are thrilled that his bust now has a proud place of honor at the Law School."
Holland is the author of two books on the Delaware Constitution. He is co-editor of the Delaware Constitution of 1897, The First One Hundred Years and author of The Delaware Constitution: A Reference Guide. He is also co-author of a law school casebook on state constitutional law from the perspective of all fifty states entitled State Constitutional Law, The Modern Experience. He is also the author of more than 700 judicial opinions.