Black Law Students Association Kicks Off Academic Year
10/2/2018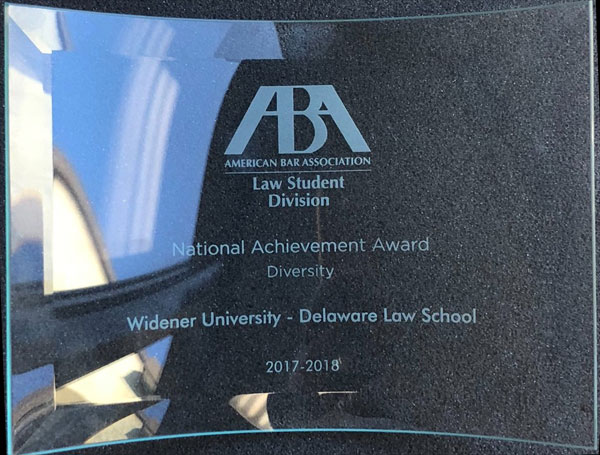 ABA National Achievement Award for Diversity and Inclusion
Delaware Law's Black Law Students Association hosted their Welcome Back Barbeque at the law school on Sunday, September 16, 2018. An annual tradition at Delaware Law as well as numerous law schools around the country, the event celebrates returning students and alumni and welcomes first year law students to the campus. Family and friends of BLSA students joined in on the fun. Several Delaware Law faculty members and staff were also in attendance. Great food, grilled and cooked by the students and their families, is always on the menu. The event was coordinated by BLSA member Na'tise Bankston and gives students a chance to relax and have fun as they resume their studies at the law school.
BLSA President Breana Barker said that, "BLSA realizes that we have a duty to our current students. We have a strong belief in mentorship. Every semester we host study halls that are geared to the first year students, but we are there for all students. These study halls provide a comfortable space for support that all students appreciate. BLSA also hosts a Professionalism Week every fall semester where students are able to learn how to professionally dress for interviews and the workplace. They also will learn networking techniques from alumni and other practicing attorneys."
BLSA also plays a large role in the surrounding community. President Barker remarked that, "Part of the vision this year for BLSA is not only to be a supportive resource for students to become well-rounded law students, but to also take our skills to our community. We are the only law school in Delaware and, as such, we have a responsibility to give back to the citizens of our community. For the past two years, BLSA has participated in Habitat for Humanity, which has been a tremendous experience. Additionally, every year on MLK day we go to the Sojourners' Place and serve meals. These are only a few activities of community service that BLSA participates in to do our part for service in the community."
An added highlight of the welcome back festivities was the celebration of a recent award given to Delaware Law School by the American Bar Association. The National Achievement Award for Diversity and Inclusion was presented to the Delaware Law School at the ABA Annual Meeting in August and was based on the extraordinary works of the Black Law Students Association for its robust on- and off-campus programming related to diversity and inclusion.