Delaware Law Salutes Prestigious Josiah Oliver Wolcott Fellowship Program
9/24/2019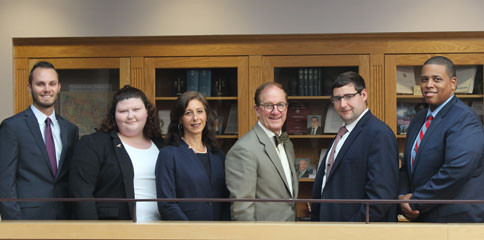 Five Delaware Law School students serve each academic year as Wolcott Fellows to the justices of the Supreme Court of Delaware.
As Wolcott Fellows, students serve as judicial clerks, working approximately 20 hours per week, performing legal research, writing draft opinions, and attending weekly oral argument sessions at the Supreme Court Courthouse in Dover, Delaware.
Wolcott Fellows receive academic credit and either a cash grant or a tuition-remission scholarship grant, funded by Delaware Law School for the duration of their Fellowship with the Court.
The Josiah Oliver Wolcott Fellowship is the only fellowship program in American legal education that offers students an opportunity to serve as a clerk for a justice of the Delaware Supreme Court or the Delaware Court of Chancery. The program is named for Josiah Oliver Wolcott, a native of Dover, Delaware. Mr. Wolcott was a lawyer, politician, and judge who was elected Delaware attorney general in 1912, and then to the U.S. Senate four years later. He resigned from the Senate in 1921 to become Chancellor of Delaware's renowned Delaware Court of Chancery, where he served until his death in 1938 at age 61.
Current Wolcott Fellow Jennifer Duffy commented that, "It is truly an honor and a privilege to work as a Wolcott Fellow with Justice Seitz and his law clerk. This experience affords me the opportunity to hone my writing skills to a level far beyond what can be achieved in the classroom. Practical experience brings the concepts learned in class to a "real-world" application significantly enhancing the quality of the educational foundation. I believe that the distinction of being a Wolcott Fellow and my time here in the Delaware Supreme Court will be a guiding force in my future endeavors."
The 2019-2020 Wolcott Fellows are:
Kyle Brady, who is assigned to The Honorable James T. Vaughn, Jr.;
Jennifer Duffy, who is assigned to The Honorable Collins J. Seitz, Jr.;
Matthew Lasewicz, who is assigned to The Honorable Gary F. Traynor;
Victoria Storz, who is assigned to The Honorable Karen L. Valihura; and
David White, who is assigned to The Honorable Leo E. Strine, Jr., Chief Justice of the Delaware Supreme Court.