Two Delaware Law Students Take Second Place in Montgomery County DA's 2022 Mock Trial Competition
8/3/2022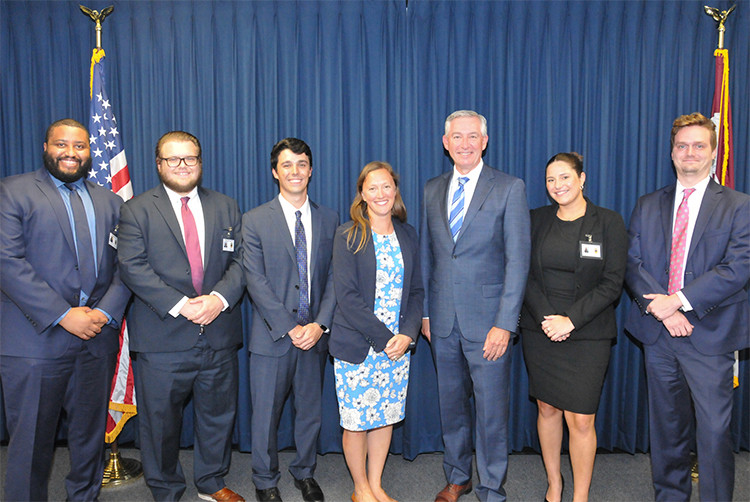 Chris Taffe, Joseph Podraza, Dillon DiGuglielmo, DDA Kelly Lloyd, DA Kevin Steele, Margot Weitz, Matthew Schenkel.
Delaware Law students Matthew Schenkel and Joseph Podraza recently earned second place in the Montgomery County District Attorney's 22nd Annual Summer Intern Mock Trial Competition for second-year law students according to a release by Montgomery County District Attorney Kevin R. Steele. Margot Weitz from Villanova University Charles Widger School of Law and Dillon DiGuglielmo from Drexel University Thomas R. Kline School of Law won the competition.
District Attorney Steele, Deputy District Attorneys and Assistant District Attorneys served as the jury for the final round of the competition held on August 1st and Deputy District Attorney Kelly served as the judge. The competition saw second-year law student interns prosecut a fictitious murder case that involved legal hurdles and factual challenges to create difficulty while other summer interns acted as witnesses and detectives. All the competitors were legal summer interns approved and certified under Pa. B.A.R. 321 and 322 by the Pennsylvania Supreme Court. That certification allowed them to practice law in Magisterial District Court and the Court of Common Pleas this summer under the supervision of the office's Assistant District Attorneys. Throughout the summer, the second-year law students were in court for Gagnon hearings, guilty pleas, summary appeals and other legal proceedings, while all summer interns were in court for murder trials and other significant proceedings.
The eight second-year law students were part of a summer intern class of 28 that included first-year and second-year law students as well as 16 undergraduates from a variety of colleges and universities including Brown, Bucknell, Drexel, University of Michigan, and University of Pennsylvania.
Read more in the Montgomery County District Attorney Office's release (pdf).
Congratulations to Matthew and Joseph!