A Transformative Educational Opportunity: Celebrating First-Generation Students at Delaware Law School
1/12/2023
By Emma Irving Widener '18 English alumna
Tori Bolling knew she wanted to be a lawyer at eight years old. She built her undergraduate academic path in preparation for law school—political science major, gender studies minor—and graduated in May 2020, ready for the next step toward this childhood dream. When she started at Delaware Law School in the fall of 2020, she marked a milestone that a large, proud group of her peers can also claim.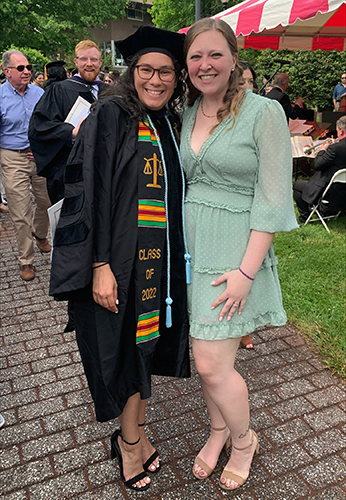 Jazmine Zack (L) and Tori Bolling during May '22 graduation
Bolling is the first in her family to attend law school. While the legal profession is often inherited through families, a 2017 NY Times article states that children with parents who are lawyers are 18 times more likely than the general population to become lawyers themselves) Delaware Law School is proudly defying that norm.
In 2022, 78 percent of the full-time incoming class identified as the first in their family to attend law school.
"We embrace our identity at Delaware Law as a welcoming institution for first-generation professionals," Interim Dean and Professor of Law Alicia Kelly said. "Creating opportunities for our students to become lawyers and live the dream is a priority for us."
Of this latest class where three out of every four students are the first in their family to go to law school, students of color identify at nearly 30 percent, class ages range from 21-62, and 48 undergraduate majors are represented. About a third of students in the class were also the first in their family to graduate from college.
Bolling said she was encouraged to find that many faculty and staff were also first-generation law students themselves, including Kelly.
Like Bolling, Kelly knew from childhood that she wanted to be a lawyer and have a direct, positive impact on others. The first in her family to go to law school, she ran a housecleaning business to support herself through her education.
"It's an unusual story for a law professor but I needed the flexibility and a way to efficiently earn money to get through law school," Kelly said. "I think about that time when I consider the needs of our first-generation students today."
First-Gens Helping First-Gens
As the president of the First-Generation Law Student Association (FGLSA), Bolling ensures students like her have easy access to the people and resources that will help them thrive.
One hugely popular resource the FGLSA sponsors is an outline bank, a collection of breakdowns of legal concepts available for free to students without any minimum GPA requirement to access.
"The learning curve from undergrad to law school is large, and this is just one way we help bridge that gap," Bolling said.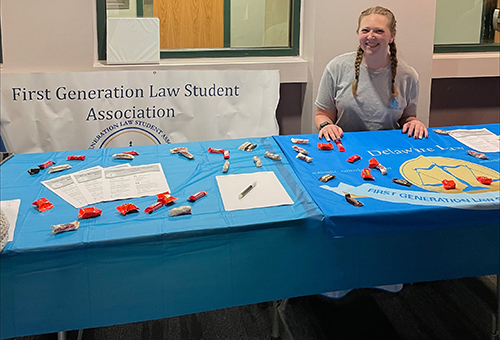 Tori Bolling tabling in September '22
The FGLSA also hosts panels of legal professionals to create networking opportunities and connections in the field that first-generation law students often lack.
Former FGLSA president and class of '22 graduate Jazmine Zack agrees with Bolling that network-building among student groups is vital to first-gen success. Also a member of the Black Law Student Association and Jewish Law Student Association while in school, Zack took every chance to create meaningful connections in a field she never thought she'd be in.
"I started at community college as a nursing major so it was daunting at first to approach people so confident in their work," Zack said.
But through FGLSA events like speed interviews with attorneys, she became more comfortable putting herself out there and opening doors for others to do the same.
"You Will Belong Here"
On the administrative end, Kelly notes that "student-centered and mentorship focused" faculty and academic success programming "baked into our infrastructure" prioritize the unique learning needs of first-generation students and destigmatizes asking for help. All first-semester students take an applied learning lab to practice effective studying and lawyering skills. A year-long bar preparation course is also required for most students in their final year.
These measures go hand-in-hand with breaking down barriers that have historically excluded some individuals from entering legal professions.
"We have a very dear commitment to diversity, equity, inclusion, and belonging," said Kelly. "We want to graduate practice-ready lawyers that can promote access to justice in the work they do. That public service and community impact ethos is very much tied to our support for first-generation professionals."
When asked about the unique talents that first-generation law students bring to the table, Bolling and Kelly definitively agreed on one word: grit.
"The ability to get through difficult circumstances and stay the course, that resiliency, that grit, is a huge advantage," Kelly said. "First-generation students tend to take charge of their futures which is such a valuable life skill."
"We possess a certain grit and hard work ethic that comes with paving the way first," Bolling added.
For Zack, she says her superpower lies in the unique perspective she brings to her work.
"I'm looking at everything with open eyes, taking in each experience without any pressure or expectation to continue doing things in a certain way," she concluded.
As Zack continues her work in New York City doing internal auditing for an insurance company, and Bolling looks toward graduation and a future in criminal prosecution, Kelly is planning for the next generation of first-generation students at Delaware Law. She invites everyone in.
"As a first-generation student, you're going to have a lot of support here and a really dynamic experience working with people who care enormously about serving communities. You will belong here," she said.