Lawyering with Empathy: Delaware Law School Welcomes Nishat Ruiter, General Counsel For TED, as Inaugural Alum in Residence.
3/13/2023
By Shoshana Kohn-Kutny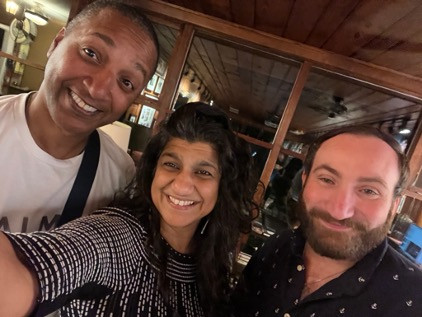 Nishat Ruiter and her legal team
Delaware Law School is excited to welcome Nishat Ruiter, class of 95, General Counsel for TED Conferences LLC, as the first Alum in Residence. With 24 years of in-house intellectual property experience, Ruiter brings a unique lens to the legal sphere. Like TED's mission-driven work, Ruiter combines empathy and global citizenship to both unravel complex legal problems for TED and to create a work environment where people redefine success.
This month, she's bringing her experience and insights from this high-profile role back to her alma mater. She will spend two days in classrooms, speaking with students and mixing with faculty and the rest of the Delaware Law community.
"It is a great honor to have Nishat Ruiter as our Inaugural Alum in Residence. She is an incredible model for us all of an accomplished, talented, energetic, creative, incredibly caring, ethical, deeply engaged attorney, who is committed to DEIB and to building community, with impactful communication as a key tool. Nishat is making a positive difference in this world every day- and is an inspiration for us all to do the same. I am excited and grateful for her residency at Widener Delaware Law School." said Alicia Kelly, Interim Dean.
Ruiter's role at TED spans everything from compliance, brand protection and contracts to reviewing legal clearance slides for speakers. For her, the whole TED organization is a stakeholder and holds a creative stake in offering feedback for making legal decisions.
"Everyone's voice is meaningful," she said, noting diversity, equity, and inclusion are also keys to building a strong, ethical company.
A first-generation lawyer, Ruiter grew up wanting to work as an actress more than a legal professional. Acting touched on her sense of empathy and her ability to see people through other perspectives. This sense of empathy, combined with her natural ability as a mediator, eventually led her to attend Widener University Delaware Law School with the idea of becoming a human rights lawyer.
"I really wanted to do something in the world that was meaningful," she said.
While she led debate and mock negotiations as president of the Moe Levine Honor Society, law school itself was not her passion. A lack of diversity in thought and in demographics concerned her. She didn't let this stop her from becoming an attorney. Once she graduated from law school, she moved to the Netherlands with her Dutch husband and began expanding her world lens even more in private practice as a Dutch jurist for a law firm.
Her time in the Netherlands taught her valuable lessons about people's expectations and what she didn't want as a lawyer. At the firm she worked in, she was asked how her understanding as a human rights activist and as a Baha'i shaped her work as a lawyer. When she responded that an example was that billing hours would be based on an honest measure, her contract was pulled the next morning. She was not surprised when this firm's founding partner later lost their license to practice due to dishonesty.
She soon moved back to the United States and eventually practiced matrimonial law in Brooklyn NY and then followed an interesting route to intellectual property law along with licensing and sales transactions. She learned valuable lessons on how to be an ethical and empathetic attorney with a critical eye to her surroundings and work culture.
"If your inner voice is one that is aware of what's right and what's wrong, then you are one step closer to understanding ethics," she said.
For her, the inner voice isn't simply a moral compass to work through difficult situations in a corporate environment, it's what guides people toward success in any law environment. To her, success isn't about winning.
"It's integrating your whole personhood within your role. It means integrating your ethical, intellectual, spiritual perspectives in a role, and being able to incorporate those parts of yourself to really have a holistic view," she said.
TED has always been a passion for Ruiter. After organizing TEDx in her hometown of Hillsborough, New Jersey she learned the process behind putting together a TEDx event. Less than a year later, she interviewed for TED's first ever legal position. TED fits Ruiter perfectly. It's mission-driven work "devoted to curiosity, reason, wonder and the pursuit of knowledge — for the betterment of humanity," she said.
"TED is an extraordinary place where they share ideas. To me, it brought everything together that I learned from an intellectual perspective and also a human rights perspective," she said. "What's beautiful about TED talks themselves is that these are individuals who have found a way to change something radically. And then they have an impact."
For Ruiter, diversity isn't simply one diversity officer or DEI on a website. Marginalized people in an organization need a voice and a place at the table.
"Do they feel safe, and do they feel included? If companies allow for vulnerability, for people to really start getting to know one another, then they can do meaningful work," she said.
Ruiter said it was important to her to come back to Delaware Law. She was asked to judge the Fred DiBona Interscholastic Moot Court Competition and was impressed by what she saw – particularly a strong commitment to recruiting and supporting first-generation law students and a dedication to diversity and inclusion in school and in the profession.
"All these changes were very meaningful to me. It is not the same law school I went to, where I felt out of place and out of alignment with the competitive nature of grades and interpersonal competition. To hear that there was this openness was encouraging, and to see how the policies of the school has changed is potentially a game changer. I'm excited to talk to the students and share with them some of my experiences and to see what ideas we can bring together, to make our impact more meaningful in our education, and beyond."