Q&A with 2023 Commencement Speaker the Honorable Scott W. Reid
5/18/2023
Our 2023 graduates will hear from U.S. Magistrate Judge Scott W. Reid '02, who serves on the U.S. District Court for the Eastern District of Pennsylvania. While at Delaware Law School, he served as the president of the Black Law Students Association, senior staff on the Delaware Journal of Corporate Law, and received the Outstanding Student Service Award. Judge Reid continues to serve Delaware Law School and the whole Widener community as a member of the Widener University Board of Advisors.
---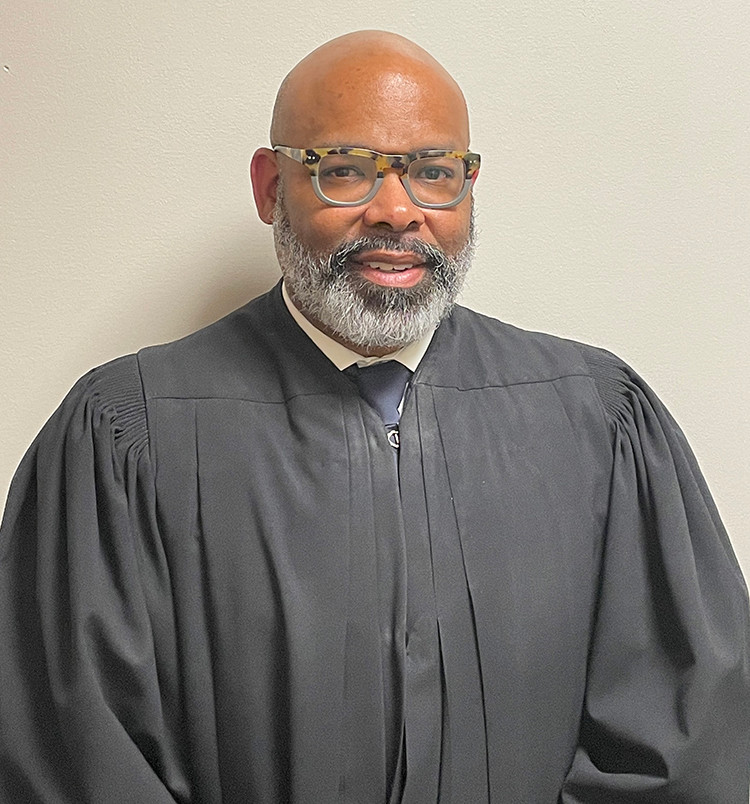 U.S. Magistrate Judge Scott W. Reid '02
---
What drew you to practice law?
I am competitive by nature. I played football in high school and college, but I got hurt playing football in college and gave up the sport. I thought becoming an attorney would satisfy my competitive gene. Additionally, I love to read and learn new things. I thought those things, along with being a people person, would make it a perfect career.
When you were applying for law schools what made you consider Delaware Law School?
First, Delaware Law School Law had a good reputation for developing litigators. At the time, I wanted to be a commercial litigator and so I believed it was a school where I would receive great training. It also had a great reputation as an overall legal education. Finally, I wanted to be close to my girlfriend who is now my wife.
What was your favorite thing about DLS as a student?
My favorite thing about DLS was how connected I was to my classmates. We spent so much time together in school, but we also bonded outside of the classroom. Although we had fun outside the classroom, we also all took school very seriously. Additionally, there was so much to do extracurricularly. I was BLSA president and wrote on to the Delaware Journal of Corporate Law. There were also many informal athletic activities from shooting hoops to touch football. It took the pressure off of feeling on all the time. It was a way to blow off a little steam.
What was hard or challenging?
The biggest challenge was learning how to adjust to the different teaching styles of all the professors. One professor may use the Socratic method and others delivered messages in a more lecture-based style. Trying to grasp new legal material along with understanding each teaching style was an adjustment. Additionally, the academic expectations at Widener are high. I had to manage the academic rigor and how precise I needed to be in order to be prepared for class or exams.
I came from a smallish family and I was the first person in my family to go to law school. It made it a little harder, but the pressure was mostly self-inflicted. I've always been driven and I knew my family wasn't going to judge me harshly. My family was always going to support me no matter how well I performed in school.. My family eased the pressure because they didn't have a legal background. They were just excited and believed in me. Being with the family provided a sense of normalcy and relief and they settled me and kept me balanced.
How did your education and experiences at DLS prepare you for your career?
Practicing law is hard—the rigor and the expectations and standards of school were good preparation for being a lawyer. It made me ready for things not always being easy, which is often the case when you practice law. It wasn't hard to succeed at work when I was faced with adverse circumstances because I was well prepared by school to deal with them.
It also was diverse in gender, race, religion and student economic backgrounds. It reflected the diversity in the law. You learn to meet everyone where they are. Finally, it gave me a lot of confidence. I never felt intimidated. I felt that if I could succeed at Delaware Law School, I could take on any challenge.
I have a real affinity for law school because in large measure it provided an opportunity for me to do what I believe I was placed on earth to do. I wouldn't be doing what I love without law school. I am blessed because I am doing what I wanted to do. I am thankful that Delaware Law School played a role in that.
What keeps you involved at DLS as an alumnus?
One thing that keeps me involved is that I've always been a pay- it-forward kind of person. Everything I achieved is also because of everyone around me who was willing to provide guidance and support to me. I want to give current students what others gave me. Professors and alumni really helped me and supported me throughout my career. I feel as though I owe it to students who came after me to return to the school and support them as I have been supported by others.
What made you decide to become a judge?
I am passionate about public service and from a young age, I wanted to contribute to my community and help people. As I progressed through my career, it dawned on me that one way I could support my community was from the bench. Since I had already displayed a commitment to justice as an Assistant United States Attorney, I knew that I had the skill set, professional experience and the judgment necessary to become a judge. When the opportunity to apply to become a United States Magistrate Judge came available, I jumped at the chance. I had gotten to the point where I wanted to help the community on a larger scale. Becoming a judge provided me with the platform to do that.
What influences your approach as a jurist?
First and foremost, I am influenced by the goal of administering justice fairly. I do my best to eliminate any personal feelings because that's irrelevant in terms of what I am called on to do as a judge. The relevant issues are the law and the facts. I always ask myself: "Have I fairly administered justice today?" I want to make sure that I am fair because I represent something larger than myself. I don't want to ever walk out of court with attorneys and litigants thinking that I didn't administer justice in a fair and even-handed manner.
What makes a successful advocate?
A good advocate is honest and candid with the court, the client, and most importantly with themselves. A good advocate needs to be able to write well. It always makes the job easier when legal briefs are crafted well. A good advocate is a good observer and good listener. If you don't listen well, you aren't good at reading the room. Most of all, listen to your inner voice. If you are well-schooled and prepared, your inner voice will typically point you in the right direction.
Can you speak to the importance of diversity in the legal profession?
Regardless of race, gender, physical condition and economic status, the law impacts the public in many ways. A diverse legal profession is important to ensure that the law's impact and effects are understood, considered and respected. A diverse legal profession also builds trust and understanding between the public and legal profession.
What do you enjoy doing outside of work?
I spend a lot of time with my wife, son and daughter. When we have downtime, we do a lot of day trips to the shore and I spend a lot of time attending my children's academic and athletic activities. When I am not doing that, I coach my daughter's 14u travel softball team. I've been coaching the same group of girls for the past seven years. I enjoy being a coach. It gives my daughter and I time to spend together. It helps connect us and provides me with a fun outlet outside of work.