Explore our Non-JD Graduate Programs
Businesses today face great pressure to comply with a growing host of complex legislative and administrative regulations. To meet this challenge, Delaware Law offers online-only graduate programs for non-lawyers. By understanding issues within the legal and regulatory framework, professionals from any industry will gain a solid foundation for career advancement.
Offered through Delaware Law's Graduate, International, Compliance, and Legal Studies Office, our non-JD graduate degrees and certificates are designed for non-lawyer professionals seeking to enhance their current skills or enter a new legal-related field.
Our faculty consist of attorneys and other experienced professionals, so our students receive first-hand insight into real-world issues, from both a practical and legal perspective. Instructional opportunities extend beyond the classroom, as many faculty continue mentoring students when they enter the workforce.
Our students include: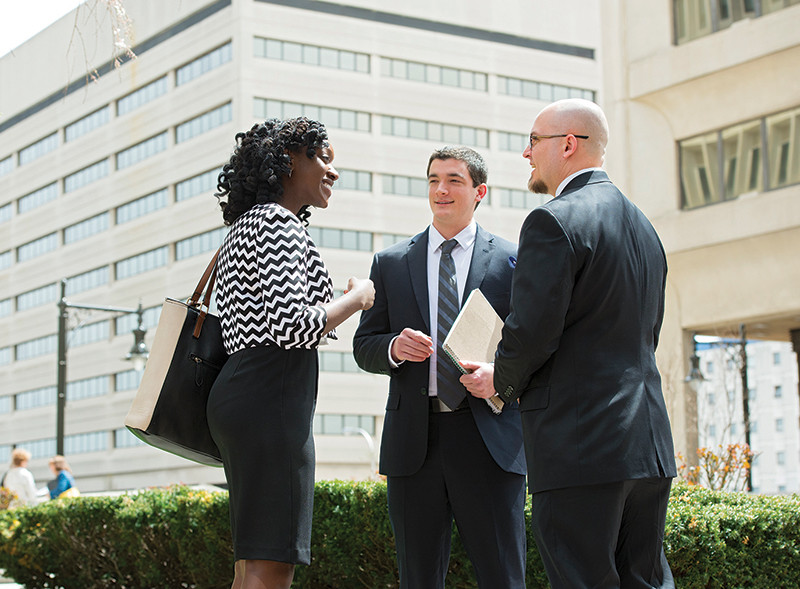 Healthcare providers
Senior-living and other assisted-living administrators
Human resources personnel
Paralegals
Contract analysts
Risk managers
Government employees
Corporate managers
Auditors
Insurance agents
Accountants
Engineers
Compliance professionals
Financial crime investigators
Fraud examiners
The diversity of our students' backgrounds and experiences combined with our programs being offered online greatly enhances the learning environment and creates an excellent opportunity to meet and network with colleagues from all over the country.
ONLINE Master of Jurisprudence Degrees and Certificates
The MJ degree can be completed in one year (full time) or two years (part time) and provides specialized concentrations for focused studies:
For applicants with prior legal experience seeking a shorter program, we offer graduate-level certificates which can be completed in less than one year:
Award-Winning and Recognized
Delaware Law School received the Society of Corporate Compliance and Ethics International Compliance Award for exceptional work in developing education programs that further the compliance and ethics profession.
The master of jurisprudence in corporate and business law has been ranked second among nearly 300 programs at 135 universities and colleges by Intelligent.com in 2022 as the best for online business law master's degrees programs. Intelligent.com also labeled the MJ program "Most Affordable."
ONLINE Master of Laws (LLM) Degrees
Delaware Law also offers online LLM degrees in corporate law, health law, compliance, and global financial and cyber crimes for US and foreign-trained attorneys. Learn more.
Enrichment Courses
If you want to explore new career possibilities or enhance current skills without committing to a structured program, our compliance programs at Delaware Law offer a variety of online enrichment courses in compliance, ethics, cybersecurity, risk management, and financial fraud to enhance professional development.
Advantages
Leading-edge technology for 100% online courses accessible 24/7
Experienced faculty are available both online and through virtual, one-to-one connections
Busy professionals may work toward their goals anytime, anywhere
Access to Delaware Law's library online databases
Learn at a "military friendly" institution
CCB Accredited
Delaware Law has the distinction of being accredited by the Compliance Certification Board (CCB). The CCB accredits universities that meet required standards for compliance education.
The CCB offers several certifications in corporate compliance, and Delaware Law can help you achieve this professional compliance certification through the CCB. As an added value to our program, students who complete CCB-accredited compliance coursework are exempt from the 1,500 hours of work experience in a compliance-related field normally required to be eligible for a CCB exam. A 3.0 cumulative GPA is required for eligibility, and other requirements may apply.
For more information, visit the Corporate Compliance CCB Exams website.
Anti-Fraud Education Partnership
Delaware Law School has partnered with the Association of Certified Fraud Examiners (ACFE) to offer graduate-level training and education in their 3-credit anti-fraud course, Fraud Examination. Students are introduced to the practical methods of fraud examination, such as performing internal investigations, identifying internal fraud, detecting financial statement fraud, examining the workings of a "fraudster's" mind, determining asset misappropriation, viewing the inside of a fraud trial, and locating hidden assets during the punishment phase. Students enrolled in at least six credits in our MJ or certificate program are eligible for a reduced student membership rate and other discounts with the ACFE.