ONLINE Graduate Level Certificates
Delaware Law offers online graduate-level certificates that can be completed in just one academic year. Choose from corporate compliance, healthcare compliance, or global financial and cyber crimes.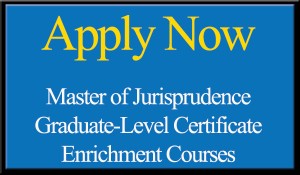 For interested applicants with some prior legal experience seeking a shorter program than a master's degree, we offer graduate-level certificates which can be completed in as little as two academic semesters (fall and spring):
Certificate options include:
Online, Flexible Scheduling
This online certificate program accommodates the working professional who seek to improve employment opportunities or to simply keep pace with changing regulatory requirements. The program can be completed part-time in one academic years. Students may choose to work at their own pace and complete the degree in as many as three years.
Additional Program Options
Master of jurisprudence (MJ) Degrees: Designed for non-lawyer professionals, the MJ degree is offered in corporate law, health law, and global financial and cyber crimes.
General master of laws (LLM) degree: For graduates of a U.S. JD program, or an international degree equivalent, we offer the General LLM degree in corporate law, health law, or global financial and cyber crimes.
Enrichment Courses: If you want to explore new career possibilities or enhance current skills without committing to a structured program, our compliance programs at Delaware Law offer a variety of online enrichment courses to enhance professional development with exciting courses in healthcare, business, compliance, ethics, cybersecurity, risk management, and financial fraud.