Congratulations to the 45th graduating class!
5/22/2019
Dean Rodney A. Smolla welcomed the 45th graduating class of Widener University Delaware Law School to their commencement exercises on Saturday, May 18, on the lawn at Delaware Law School. Widener University President Julie E. Wollman conferred degrees to 118 law graduates, and offered remarks and congratulations as well.
Graduates heard from Commencement Speaker The Honorable Lisa Blunt Rochester, United States Congresswoman representing the state of Delaware in the US House of Representatives in Washington, DC. Representative Blunt Rochester received an honorary Doctor of Law degree at the graduation ceremony. Provost Fred A. Akl and President Wollman conferred the honorary degree on Representative Blunt Rochester and Secretary of the Widener University Board of Trustees Eugene D. McGurk, Jr., Esq., read the Citation.
---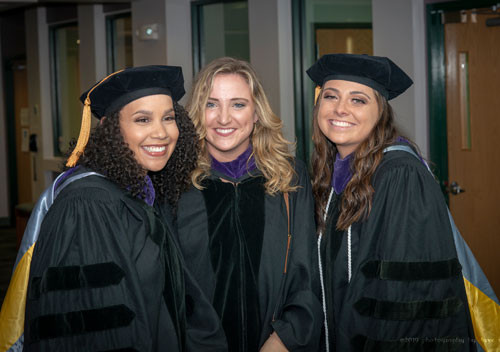 See more photos from Commencement on FLICKR.
---
Additional speakers included Delaware Law Alumni Association President Renae B. Axelrod, Esq. '91 who welcomed the graduates to the Alumni Association, and Class Valedictorian Gordon Prince.
The ceremony also included the presentation of the Outstanding Faculty Award to Distinguished Professor Alan E. Garfield, by vote of the graduation class. The Douglas E. Ray Excellence in Faculty Scholarship Awards were announced before the start of commencement activities. Distinguished Professor James R. May and Professor Erin Daly were named recipients of the Douglas Ray Awards this year.