Virtual Workshop Announcement
Commemorating the 70th Anniversary of the Universal Declaration of Human Rights
Friday, Nov. 30, 2018
Sponsored by the Dignity Rights Project
You can watch a video of the proceedings at: 4th Dignity Rights Workshop 11.30.18
4th Virtual Workshop on Dignity Rights on Friday, November 30, 2018, to commemorate the 70th anniversary of the Universal Declaration of Human Rights (December 10, 2018).
This Virtual Workshop is one of a series held to foster scholarship and understanding about dignity rights and to support the growing community of scholars, lawyers, judges, and activists who are dedicated to advancing human dignity around the world. Past Virtual Workshops have included participants from every continent, engaging in conversation about dignity in relation to such issues as the environment and climate change, gender discrimination and sexual violence, tribal identity, prison conditions, children's rights, and more.
Participants are invited to share a short (up to 10 minutes) presentation with reflections or research regarding the UNDHR in context. If interested, please contact either Professors Erin Daly or James R. May.

---
---
Human dignity recognizes the equal and inalienable value of every member of the human family.

The Dignity Rights Project sets dignity in action through public and professional education, advocacy, and support for high-impact lawyering.
What We Do
Human dignity is incorporated in most of the world's constitutions and in international law from the Universal Declaration of Human Rights (1948) to the Sustainable Development Goals (2015). And yet, throughout the world, dignity is compromised, impaired, violated, and continually tested in ways that affect real people in real ways; among the most vulnerable to violations of human dignity are indigenous people, climate and war refugees, victims of domestic and political violence, and those who defend and advocate for them. The Dignity Rights Project works in tandem with legal, academic, non-profit, community-based organizations in all parts of the world to advance the human right to dignity in three principal ways:
"As constitutions explicitly protect human dignity, and courts [give it] meaning, people around the world increasingly develop a feeling of dignity – an internalized awareness of their own worth and of the power it carries."
--Erin Daly, Dignity Rights: Courts, Constitutions, and the Worth of the Human Person (2013)
"We the Peoples of the United Nations determined … to reaffirm faith in fundamental human rights, in the dignity and worth of the human person … have resolved to combine our efforts to accomplish these aims."
-- Charter of the United
Nations, Preamble
"The Dignity Rights Project seeks to make these voices heard and these injustices visible so that they can be addressed. It further seeks to make changes in law, policy, even in small day-to-day ways of doing things. Dignity is actionable through all sorts of channels that we will have to explore as well as create."
-- Catherine Dupré, author
of The Age of Dignity
EDUCATION: Public education, legal education, and professional training and workshop programs, and scholarship on dignity-related questions.
ADVOCACY: Coordination and collaboration with governments, communities and members of civil society including dignity rights assessments.
ACTION: Consultation, research, fact-finding, brief-writing, and oral argument for potential and ongoing litigation.
We engage students, lawyers, and activists in a global conversation about the right to human dignity.
How We Work
The Dignity Rights Project works with partners locally and around the world to advance knowledge and capacity-building around the right to human dignity.
Recent and upcoming projects include:
The Second Semi-Annual Virtual Dignity Rights Workshop, November 2017
Amicus Brief on behalf of more than 60 Law Professors in Support of Plaintiffs Kelsey Cascadia Rose Juliana and others, in atmospheric trust litigation brought by Our Childrens' Trust against the Government for actions contributing to climate change. Read the brief here.
Webinar for human rights lawyers in the Middle East and North Africa working with PILnet.
Submission to the United Nations High Commission for Human Rights on the dignity rights of children in the face of climate change.
Civic education in Haiti with the International Bar Association, Street Law Inc. and the Universite de la Fondation Aristide.
White papers on the dignity implications of environmental and educational injustice for community grassroots organizations in Pennsylvania and Delaware.
Indigenous dignity for Lenape Tribe of Delaware.
Who We Are
The DRP welcomes our first Graduate Fellow in Dignity Rights, Rambabu Talluri. Ram is Bachelors in philosophy (religious studies), and has a Masters of Social Worker (Specialized in Youth Development) and a Masters of Law (LLB and LLM). He is a legal and social researcher (qualitative and quantitative), and a human rights defender and has worked with a range of nonprofit organizations in India and in the U.S.
The Dignity Rights Project is co-directed by Erin Daly and James R. May.
Erin Daly is Professor of Law, Widener University Delaware Law School (USA), and Vice President, Institutional Development, UNIFA (Université de la Fondation Aristide) in Haiti. She is the author of Dignity Rights: Courts, Constitutions, and the Worth of the Human Person (Penn Constitution and Democracy Series) and the co-author of Reconciliation in Divided Societies: Finding Common Ground (Penn Series on Human Rights). She also directs the Global Network for Human Rights and the Environment. She was interim dean of the Law School 2013-2015.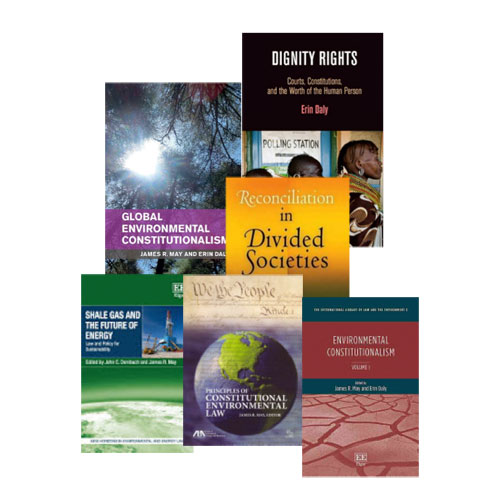 James R. May is Distinguished Professor of Law, Widener University Delaware Law School. He is the editor of Principles of Constitutional Environmental Law (ABA 2011) and co-editor of Shale Gas and the Future of Energy (Edward Elgar 2016). A former clinical director, he has litigated more than 100 cases, mostly involving environmental matters.
Together, May and Daly have written and edited numerous books including:
HUMAN RIGHTS AND THE ENVIRONMENT: INDIVISIBILITY, DIGNITY, AND LEGALITY, part of Encyclopedia of Environmental Law (forthcoming Edward Elgar Press 2019)
IMPLEMENTING ENVIRONMENTAL CONSTITUTIONALISM (forthcoming Cambridge University Press 2018)
NEW FRONTIERS IN ENVIRONMENTAL CONSTITUTIONALISM, (United Nations Environment 2017)
JUDICIAL HANDBOOK ON ENVIRONMENTAL CONSTITUTIONALISM (United Nations Environment 2d ed. 2018)
THE INTERNATIONAL LIBRARY OF CRITICAL WRITINGS ON LAW AND THE ENVIRONMENT: ENVIRONMENTAL CONSTITUTIONALISM (Edward Elgar 2016, 2 vols.)
GLOBAL ENVIRONMENTAL CONSTITUTIONALISM (Cambridge University Press 2015)
Jointly and separately, they have also written numerous articles and chapters on environmental law, comparative constitutional and international law, and transitional justice.
---
AFFILIATED FACULTY AND PARTNERS
American Bar Association Center for Human Rights
Business and Human Rights Resource Center
Center for Applied Legal Studies, University of Witswatersrand, South Africa
Chester Environmental Partnership, Chester, U.S.
Coming Clean, Delaware
Delaware Concerned Residents 4 Environmental Justice
Lenape Indian Tribe, Delaware, U.S.
Institute for Justice and Democracy in Haiti/Bureau des Avocats Internationales, Boston, U.S. and Port-au-Prince, Haiti
Institute of Romani Culture in Albania (IRCA)
Jigme Singjigme Singye Wangchuck School of Law, Bhutan
Pakistan College of Law Dignity Rights Center
PILnet, New York, U.S.
Refugee Legal Support – UK and Greece
United Nations Environment (formerly UNEP)
Universidad del Norte, Baranquilla, Colombia
Université de la Fondation Aristide, Haiti
Lisa Chamberlain, Center for Applied Legal Studies, University of Witswatersrand, South Africa,
Catherine Dupré, Exeter, U.K. (Advisory Council)
Angela Kariuki, United Nations Environment, Kenya (Advisory Council)
Stephen L. Kass, Carter Ledyard & Milburn, New York, U.S. (Advisory Council)
---
"Human dignity refers to the inherent humanness of each person. It is not an attribute or an interest to be protected or advanced, like liberty or equality or a house or free speech. Rather, human dignity is the essence of our being, without which we would not be human. Human dignity recognizes and reflects the equal worth of each and every member of the human family, regardless of gender, race, social or political status, talents, merit, or any other differentiator."
--Erin Daly and James R. May, Dignity Rights: A Synopsis (2017)
---