ONLINE Dual Degree: Master of Jurisprudence in Corporate and Business Law / Master of Business Administration (MJ/MBA)
In a unique collaboration, Delaware Law's Graduate, International, Compliance, and Legal Studies Programs and Widener University's School of Business offer an ONLINE MJ/MBA dual degree. This leading-edge program can give you a strategic advantage in pursuing graduate education in both compliance and business, with these advantages: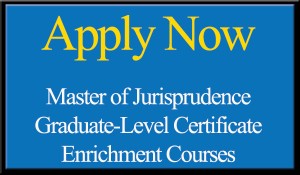 ---
Outstanding instruction from experienced practitioners who work in the heart of corporate and business law, compliance, and administration
Training in real-world skills essential for success in today's corporate and business job markets
An accessible online learning environment that works with your schedule
The choice of taking the MBA courses online or on campus at Widener University's main campus in Chester, PA
An accelerated course of joint study (combined required credits are reduced from 62 to 48), enabling completion of both degrees in 2½ years
Program Overview
ONLINE master of jurisprudence (MJ) in corporate and business law offers rigorous, graduate-level training in legal analysis and regulatory compliance and ethics in a corporate, business, nonprofit, or government environment. This online program offers a flexible course of study for working professionals who wish to enhance their employment opportunities or keep pace with changing regulatory issues and requirements. The program has the distinction of being accredited by the Compliance Certification Board (CCB). Learn more about how this distinction works for our students.
ONLINE master of business administration (MBA) reflects the idea that people learn best by doing. This intensive online program will guide you through the philosophy of business and provide the practical, real-world knowledge that companies seek. The School of Business Administration is accredited by the Association to Advance Collegiate Schools of Business (AACSB). This professional accreditation places us among the top third of college business schools in the U.S. and Europe.
Become a Certified Compliance Professional
Eligible students can seek the further credential of becoming a Certified Compliance & Ethics Professional (CCEP) or Certified in Healthcare Compliance (CHC). Upon successful completion of the master degree program's Compliance Certification Board (CCB)-accredited compliance coursework, eligible students are exempt from the 1,500 hours of work experience in a compliance-related field normally required for eligibility to take a CCB exam.
Curriculum
The program requires 48 credit hours of coursework. Some of the exciting courses offered include: Introduction to Law, Corporate Compliance Rules & Standards, Corporate Compliance and Ethics, Auditing & Monitoring, Corporate Deviance, and Business Principles.
View the MJ/MBA Curriculum (pdf)
Explore the Course Descriptions for the MJ in Corporate & Business Law/Master of Business Administration.
Eligibility
A bachelor's degree with a minimum 3.0 grade point average is required. Applicants preferably will have recent or current professional employment in business or a closely related field. GMAT not required.
Tuition
Please visit the Cost of Attendance page for current tuition rates and other fees and expenses.* Financial aid is available for qualified students.
*Tuition amount is for compliance courses only. Contact the MBA office at Widener University for tuition rates for MBA courses.
Applications
Please use the link below to apply to the dual degree MJ/MBA program. When selecting your program choice, select "dual degree" and then "MJ/MBA.