Recent/Past Events
As part of Delaware Law School's Celebration of Women's History Month:
Join the Women's Law Caucus, BLSA and the DEI Committee in a discussion facilitated by Dean Alicia Kelly and Professor Serena Williams on the recent and historic nomination of Judge Ketanji Brown Jackson to the U.S. Supreme Court
Thursday, March 31st from 12-1pm
Student Lounge – 1st Floor – Main Law Bldg.
Download the flyer (pdf)
Read a letter from Delaware Law's Black Alumni Network honoring the confirmation of Justice Ketanji Brown Jackson (pdf) to the United States Supreme Court.
---
21-Day Racial Equity Habit Building Challenge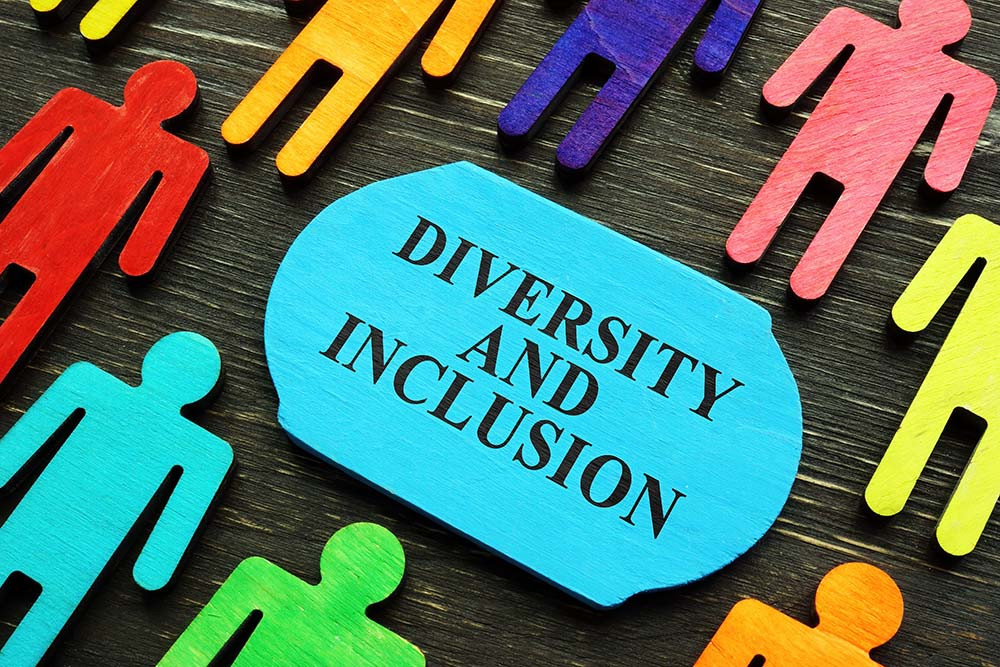 At the start of the spring 2022 semester and during the following twenty-one (21) days, as a community, Delaware Law School participated in the 21-Day Racial Equity Habit-Building Challenge.
For reference, the Racial Equity Challenge content is posted under this section in the Resources link.
Thanks to all students, faculty and staff who participated in the challenge and encouraged others to do so!
In culmination of the challenge, there will be a video viewing with facilitated breakout discussions scheduled for Thursday, February 10, 2022. See attached flyer.
Walk the Walk was prepared for the American Bar Association. It is an approx. 30-minute video in which actors portray a diverse group of lawyers working at the same law firm. Many of the lawyers appear to be well-intended, but consciously or unconsciously they say and do a lot of things that show a lack of sensitivity to their colleagues or reduce people to a stereotype. It is an engaging video that attendees will be eager to discuss immediately after watching it. That's the "Talk the Talk" part of the program. Students, faculty and staff are invited to sign-up to watch the video and participate in small groups of about 10 to 15 people to discuss it for 30 to 40 minutes.
---
Panel Discussion on Inequity and Segregation in the Delaware Public School System
Please join the Delaware Barristers Association and the Delaware chapter of the American Constitution Society for a panel discussion on inequity and segregation in the Delaware public school system and potential solutions. Panelists will include:
Senator Elizabeth Lockman, Delaware General Assembly
Professor Leland Ware, University of Delaware
Richard Morse, Esq., ACLU
Councilman Jea Street, Wilmington City Council
Professor Daniel Rich, University of Delaware
For the Delaware Law School community, this panel ties in directly with this year's Delaware Law Engages Program at DLS which reviewed the book: Choosing Equality: Essays and Narratives on the Desegregation Experience, by Professor Leland Ware of the University of Delaware, and Professor Bob Hayman of the Delaware Law School. The DLS community is invited to attend the Delaware Barristers and the ACS in discussing Public Education Seminar.
This event will take place both in person at the Delaware Law School and via Zoom. Dinner will be served.
For those participating remotely, please register to receive the Zoom information.
Download the Flyer (pdf)
---
Dear Delaware Law School Community: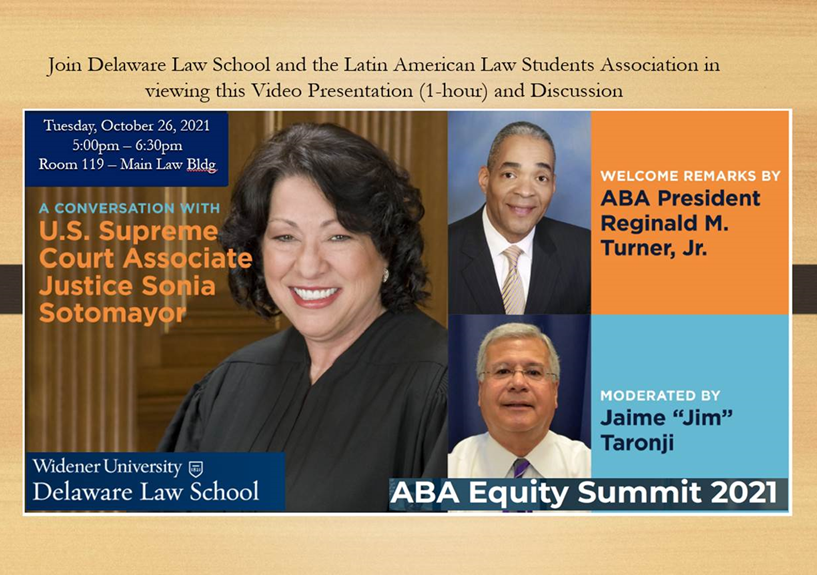 Please join DLS and the Latin American Law Students Association in viewing: A Conversation with U.S. Supreme Court Associate Justice Sonia Sotomayor.
Tuesday, October 26, 2021, 5:00-6:30pm, Room L119 – Main Law Building
All members of the DLS community are invited to attend this 1-hour viewing and following discussion to share reflections and insight. Light refreshments will be provided.
Topic: A Conversation with U.S. Supreme Court Associate Justice Sonia Sotomayor
Description: Video viewing - A fireside discussion with U.S. Supreme Court Associate Justice Sonia Sotomayor.
Biography: Sonia Sotomayor, Associate Justice, was born in Bronx, New York, on June 25, 1954. She earned a B.A. in 1976 from Princeton University, graduating summa cum laude and receiving the university's highest academic honor. In 1979, she earned a J.D. from Yale Law School where she served as an editor of the Yale Law Journal. She thereafter served as Assistant District Attorney in the New York County District Attorney's Office from 1979–1984. She then litigated international commercial matters in New York City at Pavia & Harcourt, where she was an associate and then partner from 1984–1992. In 1991, President George H.W. Bush nominated her to the U.S. District Court, Southern District of New York, and she served in that role from 1992–1998. She then served as a judge on the United States Court of Appeals for the Second Circuit from 1998–2009. President Barack Obama nominated her as an Associate Justice of the Supreme Court on May 26, 2009, and she assumed this role August 8, 2009.
Welcome Remarks: ABA President Reginald M. Turner, Jr.
Speaker: The Honorable Sonia Sotomayor, Associate Justice, Supreme Court of the United States
Moderator: Jaime "Jim" Taronji
---
Widener Community Reading Group – Discussion on The Color of Law
Download the flyer (pdf)
Click here to RSVP via email to Molly Wolf: [email protected]