Graduate Enrichment Courses
With today's regulatory environment in constant flux, compliance professionals need to continue to update their knowledge and skills. Many also aim to prepare for a Compliance Certification Board (CCB) exam to become a certified compliance professional. If you hold a bachelor's degree, you can expand your understanding of corporate law, compliance, and more through our graduate enrichment courses, offered through our compliance programs.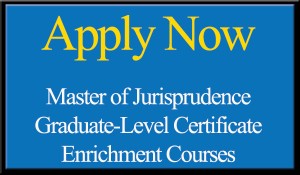 ---
Boost your professional expertise across a variety of subjects, including:
Corporate fraud
Whistleblowing
Contract drafting
Workplace investigations
Corporate compliance and ethics
Legal analysis and policy writing
Non-matriculated students can take up to three compliance or corporate courses without applying to a specific program. Our graduate enrichment courses are offered throughout the year beginning in January, May, and August.
Explore the Course Descriptions (pdf) available to non-matriculated students.
Pursue a Higher Degree
If you choose this non-matriculation option, you may go on to enroll for a master of jurisprudence (MJ) degree or graduate certificate in any one of our programs:
corporate and business law with a concentration in regulatory analysis & compliance
corporate and business law and master of business administration (MBA) dual degree
Only courses with grades of B or better may be transferred into these master's degree programs.
Online, Flexible Scheduling
Our online courses accommodate the working professional who seeks to improve employment opportunities or to simply keep pace with changing regulatory requirements.
Eligibility
A bachelor's degree is required. Applicants preferably will have recent or current professional employment or previous education in healthcare, business, or a closely- related field.
Tuition
Please visit the Cost of Attendance page for current tuition rates and other fees and expenses. Financial aid is available for qualified students.