DOWNLOAD THE FULL ANNOUNCEMENT (pdf)
The DRP is hosting a WORKSHOP on May 12, 2017 for scholars and practitioners working on dignity rights. We are delighted to announce that 6th Circuit Court of Appeals Judge Bernice Donald will give the Keynote Address.
Attendance is limited to 30 participants. Please submit expressions of interest including a description of your work to edaly@widener.edu or jrmay@widener.edu by March 20
Dignity in Action
Dignity recognizes the equal and inalienable value of every member of the human family. The Dignity Rights Project sets dignity in action through public and professional education, advocacy, and support for high-impact lawyering.
The legal right to human dignity
Human dignity is recognized a foundational value and as a legal right in international law from the Universal Declaration of Human Rights (1948) to the Sustainable Development Goals (2015) and in most of the world's constitutions. It is integral to public law, private law, criminal law, and administrative law in areas ranging from environmental protection to housing to procedural rights of political participation and access to justice.
"As constitutions explicitly protect human dignity, and courts [give it] meaning, people around the world increasingly develop a feeling of dignity – an internalized awareness of their own worth and of the power it carries."
-Dignity Rights: Courts, Constitutions, and the Worth of the Human Person
What we do
Throughout the world, dignity is compromised, impaired, violated, and continually tested in ways that affect real people in real ways; among the most vulnerable to violations of human dignity are indigenous people, climate and war refugees, victims of domestic and political violence, and those who defend and advocate for them.
The Dignity Rights Project works in tandem with legal, academic, non-profit, community-based organizations in all parts of the world to advance the human right to dignity in three principal ways:
Education: Public education, legal education, and professional training and workshop programs, and scholarship on dignity-related questions.
Advocacy: Coordination and collaboration with governments, communities and members of civil society including dignity rights assessments.
Litigation Support: Consultation, research, fact-finding, brief-writing, and oral argument for potential and ongoing litigation.
We engage students, lawyers, and activists in a global conversation about the right to human dignity.
Who we are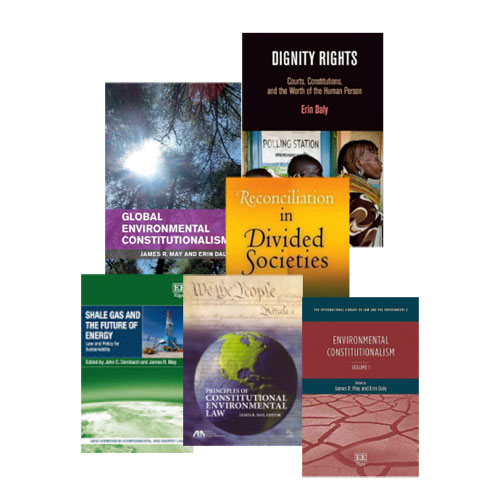 The Dignity Rights Project is co-directed by Erin Daly and James R. May.
Erin Daly is Professor of Law, Widener University Delaware Law School (USA), and Vice President, Institutional Development, UNIFA (Université de la Fondation Aristide) in Haiti. She is the author of Dignity Rights: Courts, Constitutions, and the Worth of the Human Person (Penn Constitution and Democracy Series) and the co-author of Reconciliation in Divided Societies: Finding Common Ground (Penn Series on Human Rights).
James R. May is Distinguished Professor of Law, Widener University Delaware Law School and Chief Sustainability Officer, Widener University (USA) and the editor of Principles of Constitutional Environmental Law (ABA) and co-editor of Shale Gas and the Future of Energy (Edward Elgar). Together, they are the authors of Global Environmental Constitutionalism (Cambridge) and the editors of Environmental Constitutionalism (Edward Elgar), New Frontiers in Environmental Constitutionalism (United National Environment Programme, forthcoming), and Implementing Environmental Constitutionalism (Cambridge, forthcoming), as well as numerous articles and chapters on environmental law, comparative constitutional and international law, and transitional justice, which they have written separately and jointly.
Affiliated Faculty and Partners
Ana Lucia Maya Aguirre, Bogotá, Colombia
Annie Booth, University of Northern British Columbia, Canada
Lisa Chamberlain, Center for Applied Legal Studies, University of Witswatersrand, South Africa (Advisory Council)
Dennis Coker, Lenape Indian Tribe, Delaware, U.S.
Catherine Dupré, Exeter, U.K. (Advisory Council)
Angela Kariuki, United Nations Environment Programme, Kenya (Advisory Council)
Stephen L. Kass, Carter Ledyard & Milburn, New York, U.S. (Advisory Council)
Stephan Sonnenberg, Jigme Singye Wangchuck School of Law (JSW Law), Bhutan
Chester Environmental Partnership, Chester, U.S.
Institute for Justice and Democracy in Haiti/Bureau des Avocats Internationales, Boston, U.S. and Port-au-Prince, Haiti
PILnet, New York, U.S.
United Nations Environment Programme (UNEP)
Université de la Fondation Aristide, Tabarre, Haiti
Additional Resources
Laurie Ackerman, Human Dignity: Lodestar for Equality in South Africa (2012)
Aharon Barak, Human Dignity: The Constitutional Value and the Constitutional Right (2015)
Sabine C. Carey and Mark Gibney, The Politics of Human Rights: The Quest for Dignity (2010)
Catherine Dupré, The Age of Dignity: Human Rights and Constitutionalism in Europe (2015)
Marcus Düwell and Jens Braarvig (eds.),The Cambridge Handbook of Human Dignity: Interdisciplinary Perspectives (2014)
Donna Hicks Ph.D and Desmond Tutu, Dignity: Its Essential Role in Resolving Conflict (2012)
Mark P. Lagon and Anthony Clark Arend, Human Dignity and the Future of Global Institutions (2014)
Christopher McCrudden (ed.), Understanding Human Dignity (Proceedings of the British Academy) (2013)
Michael Rosen, Dignity: Its History and Meaning (2012)