Class Gift Provides Relaxation Space in the Library
12/11/2017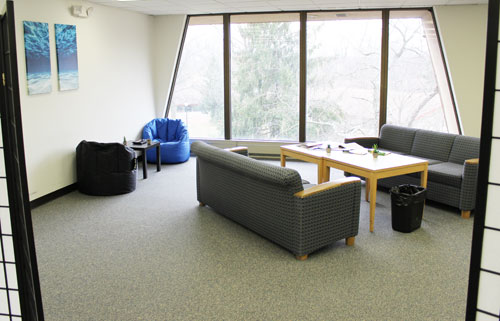 "Being a law student is a full-time job, on top of full- and part-time jobs the students already work, family obligations, and any attempt at maintaining a social life. It can become pretty overwhelming, and a common complaint we would hear on the SBA is that students are really stressed," says Randi Guzsaly, the 2017-2018 Student Bar Association regarding the reason that the 2018 graduating class decided to build a 'De-Stress Alcove' on the third floor of the library as their class gift.
The new space features bean bag chairs, coloring books, a salt lamp, playing cards, other items to help students relax. Japanese Shoji screens also serve to separate new area from the rest of the library.
"The campus wasn't set up with any space to escape school life, especially for students who don't live on campus, so we came up with this. We expect it to grow and change as students tell us more about what they want and need, but if it helps even a little bit, then it's met its purpose," Randi adds of the new space which the students put together in early December.
As far as future plans for the space, Randi says, "We want the space to be well-loved! And there will be a suggestion box up there for a month or so; we'd like to know what students want to see and we'll try to make what changes we can."