Delaware Law Partners with Delaware Shakespeare
10/31/2018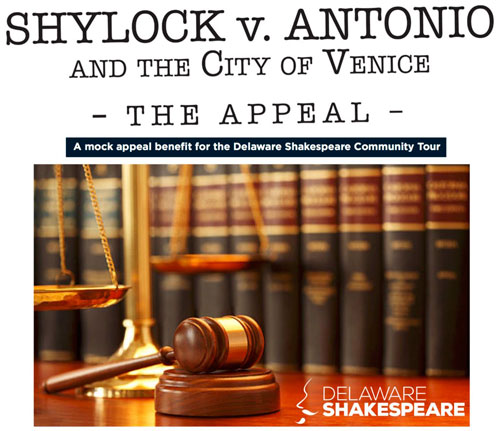 Delaware Law School's Ruby R. Vale Moot Courtroom was the scene of the Mock Appeal of Shylock v. Antonio and the City of Venice on Tuesday, October 16th. The Appeal is taken from the story of THE MERCHANT OF VENICE where Antonio obtains a loan for 3,000 ducats from Shylock, a wealthy Jewish businessman, in order to help his friend, Bassanio, win the hand of the heiress Portia. Shylock agrees to an interest-free loan, but suggests that Antonio sign a bond that will permit Shylock to slice a pound of flesh from Antonio's body if the loan is not repaid within three months. Two of Antonio's ships are lost at sea causing him to default on the loan. Shylock sues for his bond and Portia, in disguise as a legal expert, rushes to defend Antonio. The Court finds in favor of Antonio, and further orders Shylock to forfeit his wealth for conspiring to murder a Venetian citizen.
The production was a benefit for the Delaware Shakespeare Community Tour. The Tour travels the state of Delaware bringing thrilling, professional Shakespeare to audiences who may not have easy access to professional arts experiences, with free performances in homeless shelters, community centers, rural libraries, senior facilities, and prisons.
US Senator from Delaware Christopher Coons welcomed the audience and praised Delaware Shakespeare for their important work in theatre. David Stradley, Producing Artistic Director for Delaware Shakespeare, also offered a warm welcome to the audience. Pre-show monologues were offered by actors Kirk Wendell Brown who played Shylock and Liz Filios who played Portia in the production.
The cast for the performance included many local members of the judiciary: The Honorable Randy J. Holland, (retired) Delaware Supreme Court; The Honorable Susan Del Pesco, (retired) Delaware Superior Court; The Honorable Chandlee Johnson Kuhn, former Chief Judge for Delaware Family Court; The Honorable Donald F. Parsons, former Vice Chancellor on Delaware's Court of Chancery; The Honorable Charles H. Toliver, IV, former Judge on the Delaware Superior Court; The Honorable Robert B. Young, (retired) Delaware Superior Court; and The Honorable Aida Waserstein (retired) Delaware Family Court.
Acting as Counsel to the Petitioner Shylock, was Rod Smolla, Dean and Professor of Law at Delaware Law School, and Counsel to the Respondent Antonio was portrayed by local attorney Kathleen Furey McDonough, Esq., Partner and Chair of the Executive Committee at the Delaware law firm of Potter Anderson & Corroon.
All members of the cast wore colorful judicial robes and tams which added beauty and flair to the production.
A post production reception was held for the 100+ attendees of the mock appeal.