Applying to the Legal Studies Program
Applying to a Legal Studies program at Delaware Law is easy—and does not require an application fee.
Apply easily online.
Request that your high school, college, or university forward an official transcript of your academic record. If you have earned a bachelor's degree, send only your official college transcript.
A personal interview with an advisor is strongly recommended for all transfer students. Please submit your application and an advisor will contact you shortly.
Factors considered in the admission process include the following required materials to be submitted with your application:

proof of high school completion
college transcripts (if any)

Please direct e-transcripts to

[email protected]

.
For paper transcripts, DUE TO COVID-19 ISSUES, please email Admissions Specialist, Holly Osborne, at

[email protected]

for a temporary Delaware Law School mailing address, which should be used in requesting transcript(s) from your college(s) or university(ies), to ensure proper and timely delivery of your paper transcript(s) to Delaware Law School during these times.

one letter of recommendation
personal statement (essay concerning why you wish to pursue your chosen degree program and how you think this degree will further your professional and personal goals, 1-2 pages, single-spaced)
SUBMIT YOUR APPLICATION TODAY! You will be directed to Widener University's application portal.When you start your application, choose the application type: "Continuing Studies."
---
The application steps are illustrated below:
Step One: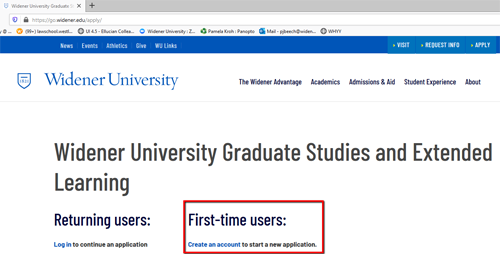 Step Two: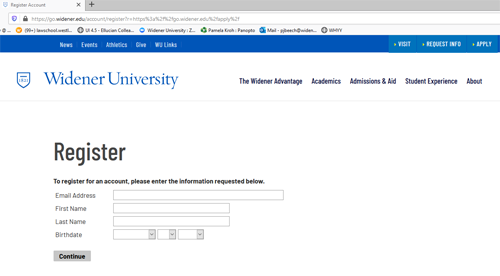 Step Three: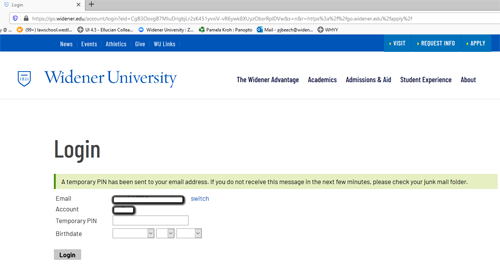 Step Four: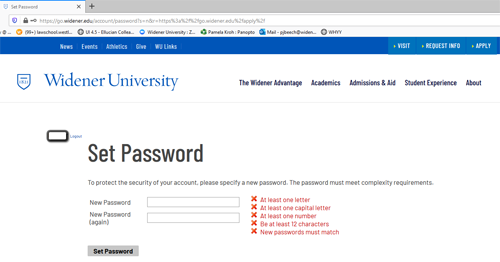 Step Five: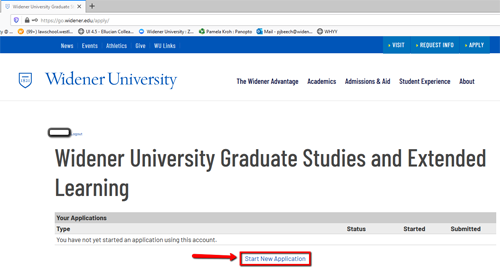 Step Six: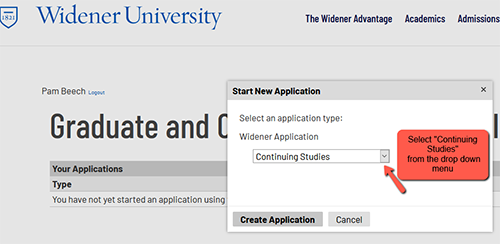 ---
Application Deadline: August 1st for the fall semester; November 1st for the spring semester; May 1st for the summer semester (session one); June 15th for the summer semester (session two).
Attention Transfer Students! Please review our Policies for Transfer Students.
Have questions before you apply? Please contact us and we will be happy to assist you.
Interested in learning more?
Attend the virtual OPEN HOUSE on Saturday, June 19th, from 10:00 am - 12:00 pm.