Dignity Rights Project
Recent Development!:
On February 4, 2021, Professors James R. May and Erin Daly of the Dignity Rights Project filed a Petition to the Inter-American Commission on Human Rights to intervene and redress gross violations of the rights of children in Cité Soleil, Haiti to dignity, a healthy environment, and judicial protection. The Petitioners are Children of Cité Soleil and SAKALA, a community center established to provide safe harbor for children in Cité Soleil. Students in the Dignity Rights Practicum helped with research and drafting.

---
---
What We Do
The Dignity Rights Project sets dignity in action through public and professional education, advocacy, and support for high-impact lawyering.
August 12, 2019
The American Bar Association unanimously adopted a resolution affirming "that human dignity — the inherent, equal, and inalienable worth of every person — is foundational to a just rule of law" and urging "governments to ensure that 'dignity rights' – the principle that human dignity is fundamental to all areas of law and policy — be reflected in the exercise of their legislative, executive, and judicial functions."
The Report supporting the Resolution was developed as a project of the Dignity Rights Project Practicum and draws on the work of Erin Daly, Dignity Rights: Courts, Constitutions, and the Worth of the Human Person (Penn 2013); Erin Daly & James R. May, A Dignity Rights Primer, https://papers.ssrn.com/sol3/papers.cfm?abstract_id=3252694 and the work of Sara E. Evans '19. The Resolution was sponsored by the ABA Center for Human Rights.
The resolution will have the immediate effect of strengthening the ABA's work in several ways. First, it will ensure that the ABA is on solid policy ground when it condemns practices, such as torture, humiliation and invidious discrimination. Second, it will provide support for ABA activities that are designed to advance human dignity, policies and practices that promote rule of law, democratic and political rights, and other civil rights. Third, it will provide a vocabulary for defending liberty and pursuing justice. Fourth, it will serve as a unifying principal to reflect what matters most to Association: "Defending liberty and pursuing justice."
The Dignity Rights Project is proud to have partnered with the ABA Center for Human Rights in support of this Resolution.
Human dignity recognizes the equal and inalienable value of every member of the human family. It is recognized in the International Bill of Rights and permeates the Sustainable Development Goals. At the national level, it is incorporated in more than 150 of the world's constitutions and courts around the world are increasingly vindicating dignity rights in civil, political, social, economic, cultural and environmental contexts.
And yet, throughout the world, dignity is compromised, impaired, violated, and continually tested in ways that affect real people in real ways; among the most vulnerable to violations of human dignity are indigenous people, climate and war refugees, victims of domestic and political violence, and those who defend and advocate for them.
The Dignity Rights Project works with legal, academic, non-profit, community-based organizations in all parts of the world to advance the human right to dignity in three principal ways:
"As constitutions explicitly protect human dignity, and courts [give it] meaning, people around the world increasingly develop a feeling of dignity – an internalized awareness of their own worth and of the power it carries."
--Erin Daly, Dignity Rights: Courts, Constitutions, and the Worth of the Human Person (2013)
"The Dignity Rights Project seeks to make these voices heard and these injustices visible so that they can be addressed. It further seeks to make changes in law, policy, even in small day-to-day ways of doing things. Dignity is actionable through all sorts of channels that we will have to explore as well as create."
-- Catherine Dupré, author
of The Age of Dignity
EDUCATION: Public education, legal education, and professional training and workshop programs, and scholarship on dignity-related questions.
ADVOCACY: Coordination and collaboration with governments, communities and members of civil society including dignity rights assessments.
ACTION: Consultation, research, fact-finding, brief-writing, and oral argument for potential and ongoing litigation.
We engage students, lawyers, and activists in a global conversation about the right to human dignity.
How We Work
The Dignity Rights Project works with partners locally and around the world to advance knowledge and capacity-building around the right to human dignity.
Recent and upcoming projects include:
Semi-Annual Dignity Rights Virtual Workshops inviting dozens of scholars from around the world to participate in a two-hour zoom conversation about the evolving law of dignity rights.
Amicus Briefs on behalf of Law Professors in Juliana v. U.S., positing that the Constitution can play a role in addressing climate change. Read the 2019 brief here. Read the 2017 brief here.
Webinar for human rights lawyers in the Middle East and North Africa working with PILnet.
Submission to the United Nations High Commission for Human Rights on the dignity rights of children in the face of climate change.
White papers on environmental injustice, educational injustice, discrimination, and the dignity rights of vulnerable and marginalized communities around the world.
The Dignity Rights Project welcomes Simone Berman-Perlstein as a Fellow for 2018-2019
Simone is a 2L at Delaware Law School, and has written about holding private entities accountable for violations of human dignity. She graduated from Agnes Scott College in Decatur, Georgia with a bachelor's degree in history.
Our First Fellow, Rambabu Talluri, held an LLB and an LLM, as well as an MSW and a BA in Philosophy.
Who We Are
Erin Daly is Professor of Law, Widener University Delaware Law School (USA), and Vice President, Institutional Development, UNIFA (Université de la Fondation Aristide) in Haiti. She is the author of Dignity Rights: Courts, Constitutions, and the Worth of the Human Person (Penn Constitution and Democracy Series) and the co-author of Reconciliation in Divided Societies: Finding Common Ground (Penn Series on Human Rights). She also directs the Global Network for Human Rights and the Environment. She was interim dean of the Law School 2013-2015.The Dignity Rights Project is co-directed by Erin Daly and James R. May.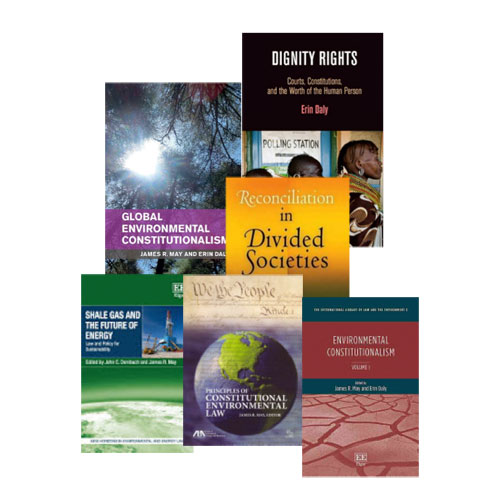 James R. May isDistinguished Professor of Law, Widener University Delaware Law School (USA). He is the author or co-author and editor or co-editor of 10 books and more than 100 articles and chapters, including Standards of Environmental Rights (Cambridge University Press), Principles of Constitutional Environmental Law (American Bar Association) and co-editor of Shale Gas and the Future of Energy (Edward Elgar). May has been inducted into Phi Kappa Phi and the American College of Environmental Lawyers. His work focuses on comparative environmental constitutionalism and dignity rights.
Together, they have written and edited numerous books including:
HUMAN RIGHTS AND THE ENVIRONMENT: INDIVISIBILITY, DIGNITY, AND LEGALITY, part of Encyclopedia of Environmental Law (forthcoming Edward Elgar Press 2019)
IMPLEMENTING ENVIRONMENTAL CONSTITUTIONALISM (Cambridge University Press 2018)
NEW FRONTIERS IN ENVIRONMENTAL CONSTITUTIONALISM, (United Nations Environment 2017)
JUDICIAL HANDBOOK ON ENVIRONMENTAL CONSTITUTIONALISM (United Nations Environment 3d ed. 2019)
THE INTERNATIONAL LIBRARY OF CRITICAL WRITINGS ON LAW AND THE ENVIRONMENT: ENVIRONMENTAL CONSTITUTIONALISM (Edward Elgar 2016, 2 vols.)
GLOBAL ENVIRONMENTAL CONSTITUTIONALISM (Cambridge University Press 2015)
Jointly and separately, they have also written numerous articles and chapters on environmental law, comparative constitutional and international law, and transitional justice.
---
AFFILIATED FACULTY AND PARTNERS
American Bar Association Center for Human Rights
Business and Human Rights Resource Center
Center for Applied Legal Studies, University of Witswatersrand, South Africa
Chester Environmental Partnership, Chester, U.S.
Coming Clean, Delaware
Delaware Concerned Residents 4 Environmental Justice
Lenape Indian Tribe, Delaware, U.S.
Institute for Justice and Democracy in Haiti/Bureau des Avocats Internationales, Boston, U.S. and Port-au-Prince, Haiti
Institute of Romani Culture in Albania (IRCA)
Jigme Singjigme Singye Wangchuck School of Law, Bhutan
Pakistan College of Law Dignity Rights Center
PILnet, New York, U.S.
Refugee Legal Support – UK and Greece
United Nations Environment (formerly UNEP)
Universidad del Norte, Baranquilla, Colombia
Université de la Fondation Aristide, Haiti
Lisa Chamberlain, Center for Applied Legal Studies, University of Witswatersrand, South Africa,
Catherine Dupré, Exeter, U.K. (Advisory Council)
Angela Kariuki, United Nations Environment, Kenya (Advisory Council)
Stephen L. Kass, Carter Ledyard & Milburn, New York, U.S. (Advisory Council)
---
"Human dignity refers to the inherent humanness of each person. It is not an attribute or an interest to be protected or advanced, like liberty or equality or a house or free speech. Rather, human dignity is the essence of our being, without which we would not be human. Human dignity recognizes and reflects the equal worth of each and every member of the human family, regardless of gender, race, social or political status, talents, merit, or any other differentiator."
--Erin Daly and James R. May, Dignity Rights: A Synopsis (2017)
---